The 5th Sense in the News: Great Article on the 15 Das Parfum fragrances by Thierry Mugler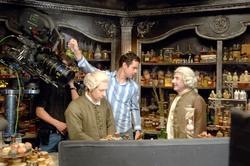 There is a detailed article by Isabelle Cerboneschi in Le Temps about the perfumery work that went into the creation of the Das Parfum collection of 15 fragrances by Thierry Mugler based on Perfume, The History of a Murderer by Patrick Süskind. The piece also contains an interview of Christophe Laudamiel (Lauder Youth Dew Amber Nude, Kors Island...), one of the two perfumers who interpreted the novel's olfactory descriptions, together with Christophe Hornetz...
We learn, among other things, that the perfume Aura or the virgins' perfume incorporates the real smell of a 16 year old young girl's navel captured thanks to the headspace technology. The young woman had to follow a very strict diet for a month prior to her navel's aroma being recorded: no onions, garlic, or curry etc. Christophe Laudamiel's answer to the journalist's question "how does a virgin's navel smell?" is "It smells clean. A clean human being, like clean sweat with an aldehydic effect to it."
The 15 perfumes are in chronological order: Baby, Paris 1738, Atelier Grimal, Boutique Baldini, Virgin no 1, Amor & Psyché, Nuit Napolitaine, Ermite, Salon Rouge, Human Existence, Absolu Jasmin, Sea, Noblesse, Orgie, and Aura. The article describes them and offers information about the materials used. For example, for Orgie, the perfumers used, among others, notes of an animalic black chocolate, body odors, sandalwood, Excital which smells of dirty hair to recreate the atmosphere of the bacchanalia taking place towards the end of the novel. Hidden in the composition is a woody set of notes meant to evoke the freshly cut wood used to build Grenouille's scaffolding.
The article is in French. You need to pay to access the article.