Fragrance News: West Side by Bond no 9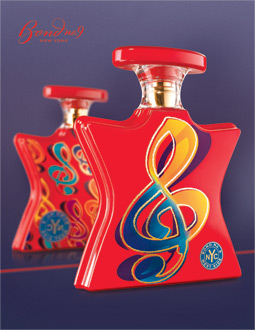 The newest creation by the house of Bond no 9 is set to launch on November 1st 2006 and is called West Side. Like the other fragrances in the collection of the New York perfume house, now part of a catalogue of 27 fragrances, it is inspired by the spirit of a New York City neighborhood or, sometimes also, as in the cases of Fire Island and Hamptons, by that of a nearby region much frequented and loved by New Yorkers.
West Side is seen as embodying the musical beat of New York City and is described as "...an ultra-melodious eau de parfum that finds the scent equivalent for the sounds of music in its full-bodied, mellow composition, its undulating rhythms, its harmonies, its pitch—and yes, its notes. Whether they're high or low, dark or light, sweet or sharp—notes are what music and fragrance are both about"...

Bond no 9 further elaborates "We've asked ourselves—What's the sound of Bond No. 9's West Side? Are we talking The Platters' version of Twilight Time, maybe? Lizst's Piano Concerto No. 2. Cole Porter's Begin the Beguine? Gershwin's Rhapsody in Blue? Philip Glass's Koyaanisqatsi? That's just our nose at work. Fragrance, like music, is open to interpretation. Everyone who sniffs it will hear—and smell—a different melody of their own".
I already spotted three of my favorite notes in the perfume: ylang ylang, peony, and sandalwood. Moreover, a perfume that is widely open to interpretation and is susceptible to overlap different musical genres? That promises to be anything but linear...

Top notes are rose, ylang ylang "doing what it does best: the meringue" and peony. Heart notes are sandalwood and amber "in diva mode, as deep and rich as a mezzo-soprano singing Carmen". Base notes are vanilla and musk "that misbehaves when it meets vanilla and starts singing the blues".
There is a 3.4 oz. superstar bottle in a box presentation ($185) and 1.7 oz. travel size ($125). West Side can also be purchased by the ounce ($45) either in a 2-ounce basic spray flacon with gilt honeycomb cap ($25), in fashion colored bottles ($40 - $70) or in vintage or art bottles featured in a wide variety of designs ($60 - $200).
West Side is not yet up on the Bond no 9 website, but you can take a tour there to discover the rest of the line and the many eye candies offered on their revamped site.
Source: press release.