Eaux Nacrée, Perlée, Givrée, Boisée, Epicée, & Irisée by Jardin de France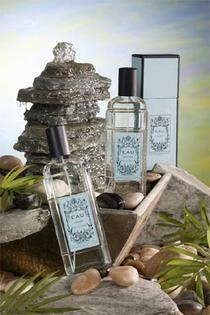 Jardin de France has released 6 new eaux de toilette called Eau Nacrée, Eau Perlée, Eau Givrée, Eau Boisée, Eau Epicée, & Eau Irisée. Two are meant to be worn by women, two others by men, and the last pair of eaux are unisex.
The brand Jardin de France was established in 1920 and takes its name from its region of origin, Amboise, located on the Loire river bank and dubbed "the garden of France". Jardin de France is already well-known for its rich line of colognes comprising 21 different variations on the theme in the collection L'eau de Cologne 1920....

You will find such classics as an eau de cologne à l'ancienne, but also more unconventional scents. Recently they added for example an eau de cologne à l'angélique. My personal favorite from the line from the start was their Chypre eau de cologne which offers a subtle and retro feel reminiscent of perfumes such as Habanita by Molinard or old-fashioned Russian leather scents. Not long ago Osmoz advertised some of their colognes as new scents but they have been actually around for quite a while.

The packaging is noteworthy offering a retro charm with their art deco cut-glass bottles, their beautiful labels, and their caps which unscrew so swiftly and smoothly making a little satisfying and sing-songey noise. If you have seen the movie Le Fabuleux Destin d'Amélie Poulain you may remember a scene in the movie where Amélie is in her bathroom dabbing on some cologne from a retro bottle and drops the cap which rolls into a crack in the wall revealing a little boy's treasure box; it makes that kind of sound and it evokes that kind of style and atmosphere.

I can't remember their prices precisely, but they are very reasonably priced.
Source: Fashion Mag.fr