Royal Bain de Caron by Caron (1923) {Perfume Review & Musings} {Perfume History & Facts} {Violet Notebook}
Historical Background
The story that is told regarding the creation of the seemingly eccentric perfume Royal Bain de Caron / Bain de Champagne by Caron is that of a Californian millionaire who custom-ordered it so that it could be used as a substitute for real Champagne which he liked to pour into his bath. This idea for the design of a boozy champagne perfume was thus motivated by the strictures imposed by the Prohibition period (1920-1933) and seems moreover to have been well in tune with the spirit of excess of the Roaring Twenties. So, if you would like to relive a Fitzgeraldean moment just pour some of the concoction into your 21st century bath. A source mentions that William Randolph Hearst is the millionaire hinted at in the story line and that the perfume was meant to be used by "his wife," whoever it might be concretely (Millicent Hearst or Marion Davies?).
I said "seemingly eccentric" because apart from the fact that there was a pragmatic motivation for the creation of the perfume, the association of perfume and champagne was seen as a fairly logical one by perfumers as both offer an image of bottled luxury, exhibit similar colors, smell or can smell fizzy, and are festive gifts. Guerlain designed the bottles of L'Heure Bleue and Mitsouko for example with a cap whose shape is inspired by a champagne cork to reinforce this unconscious luxury association. Yves Saint Laurent did the same for Champagne/Yvresse. More recently, Mona di Orio has picked up again on this packaging tradition by designing her bottle tops with an explicit wired champagne cork design. Félicie Wanpouille, who designed the Caron perfume bottle, is the one who took the analogy to its maximum conclusion ....
Royal Bain de Caron (Royal Bath of Caron) was originally created under the name Bain de Champagne (Champagne Bath) in 1923. In 1941 the name was legally changed to that of Royal Bain de Champagne (Royal Champagne Bath). From what I understand, Royal Bain de Caron was already marketed as an eau de toilette in 1923. According to a source however it was first issued as an "eau parfumée pour le bain" (perfumed water for the bath) before becoming an eau de toilette in 1941. Other sources indicate that it was always marketed as an eau susceptible to be used both in the bath and for the toilette even in the 1920s. Many sources, including the official Caron site, cite the date of creation of the perfume as being 1941 without mentioning that there was a Bain de Champagne in 1923. Michael Edwards does mention that Royal Bain de Champagne was created in 1923, but does not mention its initial incarnation as being Bain de Champagne, nor its 1941 name as being Royal Bain de Caron. Further research needs to be done.
As the advertisement above from 1928 shows, Bain de Champagne was described as "An exquisite bath and toilet preparation" which seems to imply a dual usage as a bath and body splash product. In yet another earlier advertisement from 1926 the same ad copy appears. If you look at the 1967 advertisement below it more clearly specifies that Royal Bain de Champagne was encouraged to be used as a bath product and a cologne that is, "Before the bath. During the bath. After the bath." So even when marketed as a cologne it was seen as an alcohol-based bath product. It is also one of the first fragrances, if not the first, to have been marketed as a unisex fragrance.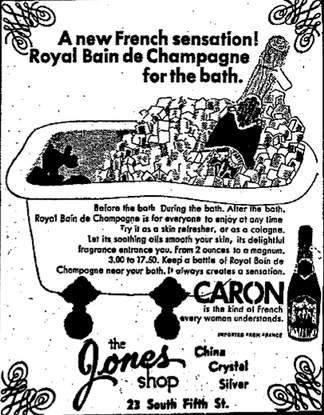 There was a legal battle over the use of the name "Champagne" in 1993 which arose in fact around the time of the launch of Champagne by Yves Saint Laurent (now renamed Yvresse). This had a ripple effect on the more discrete fragrance created 70 years earlier by the house of Caron which under the circumstances could not be ignored anymore by legal parties involved in the dispute over the YSL fragrance. The name was thus changed a second time to the current one, Royal Bain de Caron.
The Perfume
Regarding the composition of the perfume, descriptions put the accent either on the floral and resinous components of the product or on the fresh notes, including a champagne note. So far, I have not been able to find the mention of a reformulation.The nose behind the perfume was Michel Morsetti who had then recently arrived at the house of Caron and who later went on to create Farnesiana, Muguet du Bonheur, Coup de Fouet, and Poivre, amongts others.
One description may state that notes are lilac, rose, gardenia, sandalwood, benzoin, incense, opopanax, vanilla, Tonkin musk. Another description might read that notes include bergamot, lavender, sage, champagne, amber, rosewood. I smell both the fresh and more Oriental aspects of the perfume, as well as the zingy facet of it and so think that both are partial descriptions of the perfume.
Royal Bain de Caron appears to be in this day and age a bit of a quaint perfume without being completely out-moded; in other words, it smells retro in a fashionable sense because it belongs to a past that is far away enough to become interesting and current again. The champagne impression is rendered with a frank outburst of aldehydes that showcases them while one is nowadays more used to seeing them blend in with the rest of the notes. You can compare the impression here with that of YSL Yvresse. A certain agressivity and even brashness there allied with a chalky soft powdery drydown reinforces that sensation of being confronted with a relic from the past. These contrasted characteristics end up being constitutive of its charm once the nose becomes used to the barrage of aldehydes.
The perfume in the bottle smells a bit candy-like and on the skin starts with a fizzy and soapy impression of champagne. The accord prolongs itself into one of heady flowers enhanced by the glow of sparkling wine. The lilac in particular appears prominent, softened down by the rounder and sweeter note of gardenia. The fragrance softens further by taking on a more vanillic overtone and a powdery flowery character.
Once I caught a whiff of Royal Bain de Caron unaware and thought that it smelled like Shalimar except for the distinct and slightly raw chalky sensation. This similarity is reinforced by the presence of a bergamot note. There are fresh cologney aspects to the scent, in particular thanks to the bergamot note, that give it a more modern feel as if it could be seen as a distant relative of another unisex cologne, Thierry Mugler Cologne. If the sillage can smell surprisingly fresh, the scent on the skin smells more like a discrete powdery scent in the vein of some candied powdery violet perfumes. Nevertheless, its modernity expresses itself in its early use and overdose of aldehydes to make a statement about a faster and bolder way o life, two years after Chanel No.5, as well as in this idea of creating what one might term today, a gustatory perfume, conceptually at least, by exporting the idea out of a bucket of ice and into a bath. It would be only much later that a perfume could really wish to give the illusion of being, say, a blueberry pie or a glass of wine.
Royal Bain de Caron is available at numerous online discounters.
Pictures are from The Scented Salamander collection.