Rossy de Palma Eau de Protection by Etat Libre d'Orange {Perfume Review & Musings} {New Fragrance}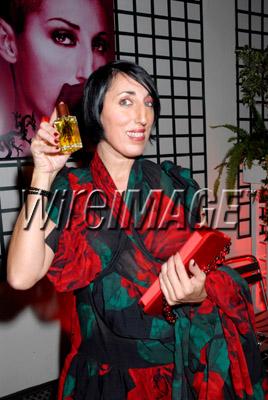 Rossy de Palma at the launch party for Eau de Protection
Rossy de Palma
is this wonderful Spanish character actress - one of Almodovar's fetish actresses - with the most atypical of physiques, one that seems to combine references to both El Greco and Pablo Picasso's works. Is it a coincidence or the sum of ancestral genius and powers of observation of two great Spanish painters that have extracted certain specific traits found in their compatriots? Rossy de Palma's face offers the same elongated and sharp-as-a-knife-blade likeness to an El Greco figure as well as the boldness and asymmetry of a woman's face quietly rendered by Picasso (cf. Le Mystère Picasso by Clouzot). And she dreamed to capture the elusive scent of the rose.
The Wish

Eau de Protection (Protective Eau), the latest creation by Etat Libre d'Orange is a perfume à la commande, a custom-made perfume for a strong personality and secondarily, a celebrity. Rather than to take the well-trodden path of the design celebrity perfume which aims essentially to please millions of potential wearers more desperately than the celebrity herself or himself, would the marketers be asked to tell the truth in a confessional, Etat Libre d'Orange, being a niche perfumery, has the luxury to take more idiosyncratic risks......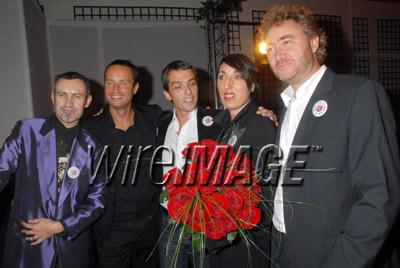 The fragrance team partying on September 22 2007 for the launch of Eau de Protection at the Orangerie de Bagatelle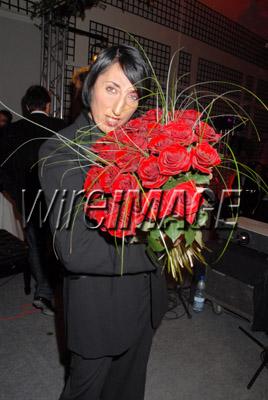 Hence a perfume that feels more personal, in the sense that Eau de Protection feels like it corresponds to the tastes of the actress more than to those of the perfumers Antoine Maisondieu and Antoine Lie who were in charge of the perfume-portraiture process. Perhaps if left to themselves, they would have dosed certain ingredients differently, but probably Rossy de Palma preferred it a certain way. The result leaves one a bit skeptical at first, what with the blood accord and seemingly an overdose of bergamote, but feels truly delightful in the end as you slowly but surely fall under the spell of the talismanic eau made of all sort of different incantations and broken pieces of "organic" objects.

And in fact let us stress that it is not so much a classic personal fragrance as a fetish, a charm, a talisman. Therefore this special eau was endowed with certain protective properties rather than be a reference to the wearer's ego. A dialog is established between the talismanic rose which is Rossy de Palma's "own rose" in the sense that it is a rose composition that makes magical and intimate sense to its original wearer. It appears to the external smeller to be such a personal relationship that one wonders if anyone else can authorize themselves to wear Rossy de Palma's Eau de Protection?

Aromas that we love deeply take their roots more often than not in childhood. A poetical reference to the time of innocence, quest for love, and capacity for wonderment of Le Petit Prince by Saint-Exupery structures the wish for a talismanic rose fragrance both fragile and strong. When Rossy de Palma asks, nearly in Le Petit Prince's own words, "Dessine-moi une femme" ~ "Draw me a woman" she seems to be taking a long detour to go back to herself, a woman to be painted and drawn.

It is probably best to quote her poem first, let her speak, and offer our own impression of the perfume afterwards,


The Perfume
Eau de Protection starts with aromatic, clear, astringent, even a bit shrill, notes of ginger and bergamote. Black pepper is mentioned for the opening of the scent and it is there but more in the background like a thick velvet curtain that hushes sounds as it is rendered as being slightly piquant but mostly soft. The perfume then segues into a milkier and sweetish impression, which is slightly nauseating at first but to which one gets used to. Sensing that this accord was a bit elusive and difficult to identify we looked at the note description and our eyes fell on the mention of a "blood accord". Etat Libre d'Orange is already well-known for having taken the risk of making a very un-pc fragrance based on a sperm accord, and which includes also a blood accord, called Sécrétions Magnifiques.
Here the ferrous blood accord mingles with the Bulgarian rose, geranium, and jasmine in the heart. The imagery of blood and rose thorns is classic but Rossy de Palma reworks the images in her poem by talking about a tattooed rose on her heart that makes it bleed.
The perfume while keeping its citrus-y edge and floral bloody heart, where the magical charm of the Eau lies in our opinion, warms up progressively becoming duskier and more amber-y too with the benzoin, patchouli, incense, and cacao. The incense-y, musky and ambery dry-down is simply wonderful.
Eau de Protection initially is both intriguing and a bit off-putting, but the attraction part is stronger. Etat Libre d'Orange succeeds in making a very unusual accord, blood, feel almost mainstream. It is an eclectic and charming perfume that seems to be made of bits and pieces with symbolic meaning. It seems only to get better with time. The more you wear it, the better it smells, ending being an exquisite and beautiful incense-y rose with an addictive quality.
The fragrance is not advertised on the Etat Libre d'Orange site currently so one would need to ask about their plans in this regard. Update: The perfume, which is part of the regular collection, is available at the boutique, 65 Euros for 50 ml, the only size that they propose. You can call them to order the scent, just have your credit card ready. Shipping to the US is 26.50 Euros.

You can watch a video interview of Rossy de Palma about the fragrance in French here.
You can read more about the fragrance here.
You can take a peak at the flacon here.
(Images courtesy of Wire Images and Etat Libre d'Orange)