Scented Quote of the Day, from Christian Dior: - 60th Anniversary of Miss Dior {Fragrant Reading}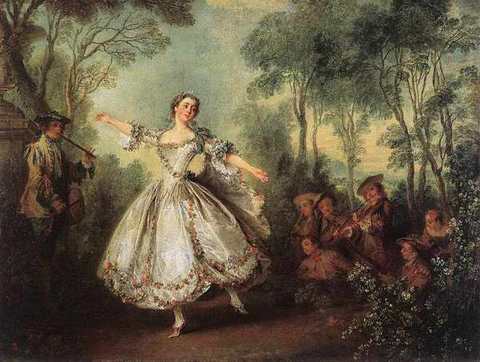 Mademoiselle de Camargo by Nicolas Lancret (1730)
"Le parfum c'est le complément indispensable de la personnalité féminine, c'est le finishing touch d'une robe, c'est la rose dont Lancret signait ses toiles".
~
"Perfume is the indispensable complement to the feminine personality; it is the finishing touch of a dress; it is like the rose that Lancret used to sign his paintings."........

This quote is excerpted from an article celebrating the 60th anniversary of Miss Dior (1947) in the magazine Paris Capitale (pp. 92-3).
Bon Anniversaire Miss Dior! ~ Happy Birthday Miss Dior!
We are also happy to have found a picture of this Lancret painting, Mademoiselle de Camargo, as the dress depicted in it evokes very well, like another dress worn by Audrey Hepburn later on, the personality of this masterpiece of subtlety and finesse that is Le De by Givenchy. There is also a genealogical link with the New Look in this dress.This is a graceful transition for our review of Le De that we will post this weekend.