Chypre, Oriental, Poudré by Jovoy & Chypre by Coty: On Perfume Names {Perfume Shorts (Reviews)} {Scented Thoughts} {New Perfumes}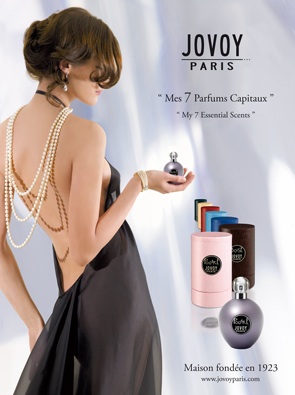 The perfumes issued by
Jovoy
the newly re-established house
founded by Blanche Arvoy in 1923
and now revived by François Henin, Henri de Pierrefeu, and Marie-Laure de Rodellec (see also post on the
"patrimony movement" in French perfumery
) pose the interesting question, to us, of the significance of the name and concept behind a perfume in their influence over the composition of the fragrance and the communication of its personality to the wearer. If a perfume is art, then it is about the attempt to establish a bridge of communication between two imaginations, two universes, those of the creator(s) and the wearer(s). Perfumes named with non-particular names, but rather with names denoting the whole group or family of perfumes might well be in danger of blunting precise images, precise sensations. It is very difficult to assess how much a name influences our perception of a perfume without doing psychological tests about olfactory creation and perception and expectations. Perfumes might very well be inevitably linked to stories and names as the other halves of themselves, which includes the shape of the bottle, another story told with different materials........
Poudré, Oriental,
and
Chypre by Jovoy
, which we take as examples in this discussion come, name-wise, with very general characteristics. When one smells them, the mind tends to go in a circle, which is to say that it tends to recognize them as what they claim to be. Yes, Poudré is powdery, Oriental is warm and as advertised, Chypre is a classic chypre with all its recognizable traditional elements. Was it the sole purpose of the creators to makes us identify them as such? Or were the perfumers influenced in their work by the agenda embedded in the names themselves and while delivering the goods, did not find more particular hooks, particular stories on which to peg their ideas? Is creativity best triggered by general or generic propositions?
An interesting historic example is
Chypre by Coty
created in 1917, which rather than to clarify the situation, rather leads to further questioning. When one smells Chypre by Coty today one is faced with a similar conundrum, which is that it smells rather generic to a contemporary nose, as if it were a well-known perfume base recognizable and found in many products put forth since the 1910s going from perfumes of the chypre family to simply, soaps. The airspun powder by Coty, which is still being sold in drugstores as familiar as Walgreens and CVS and in its original Art Deco packaging is also redolent of the scent of this original Chypre hence contributing to a further sense of the perhaps all-too-familiar, diffuse, and universal. And the name itself does not help our imagination as it has become somewhat of an abstraction denoting a family of perfumes even more than it did at the time of its launch. Who ever thinks of the Mediterranean and the island of Cyprus when smelling a chypre?
Some perfumes seem to contain motifs in them and instantly transport us to an universe suggested by the impressions of the perfumer managing, somehow, to open the gates of imagination for us. Others seem more like fragrances destined to smell good but on which it appears tricky to collage images. They are more like harmonious blends, scented media, than theaters for our representations. But perhaps it is just this individual's very subjective experience.
Attempts have been made to "untitle" perfumes by those who want to go back to the purity of olfactory perception and who think that only the juice matters. Perhaps in a way, labeling a perfume with a very general name purports to do the same or perhaps it ends up being completely different an enterprise as the mind is invited to revolve around a generality, including the perfumer's mind, not just the wearer's. Chanel No. 5 is a number initially but through the course of its career beccomes a myth to which many stories are appended. The Jovoys, although resuscitating an old perfume house, are new.
Chypre by Jovoy was composed by perfumer Amandine Marie. It is a classic floral chypre that is akin to chypres like Cabaret by Grès, Knowing by Estée Lauder, or the Sisley chypres for example.The rose, patchouli, and ambergris are most prominent. It evokes the lightly fumé scent emanating from the outfit of a well-tailored woman who smokes cigarettes and likes to spend time in Parisian cafes. She just entered one to escape the rain and might even be carrying a poodle in her lap (animalic notes and a slightly wet impression). Top notes are rose, peony; heart notes are jasmine, lily of the valley, honey; base notes are amber, vetiver, patchouli.
Oriental is also a creation by Amandine Marie and offers fruity, milky and woody facets with a light chypre overtone later on in the drydown. It makes one think a bit of caramel apples kept in a cedar chest and offers a creamy and woody texture. Top notes are pink berries, bergamot; heat notes are peach and rose; base notes are vanilla, cedar, amber.
Poudré was composed by Jérôme Epinette. It is powdery like baby powder with a noticeable metallic tang to it and nuances of nail polish. It has a certain sharpness to it also that people who like perfumes such as Blue Grass by Elizabeth Arden might enjoy. It conjures up the vision of a retro feminine vanity dresser of the 1950s-1960s next to a baby crib. Jérôme Epinette also created
Ilaya by Isabel Derroisné
.
All of the Jovoy perfumes smell good and give the impression of being of medium complexity. It feels a bit like they could be further added to if one wished to do so. But they blend particularly well with one's skin in the drydowns, in the vein of
Absolument Absinthe by Le Parfum d'Interdits
, which was designed to offer this functionality.
Again we go back to our initial question, which is to know to which extent the generic aspect of the names and of the creative program influenced the conceptions of the fragrances for the perfumers and our perception of them. From the point of view of the brief, it is mission accomplished, each perfume reproduces the characteristics of its family but seems to perhaps need more individuality in the next step.
The ensemble aspect of the enterprise, issuing seven fragrances at a time, must have contributed to a homogenizing and systematic vision for the collection. Maybe perfumes need more personal stories and independent developments, accidents of history and incompatible neuroses. Yet they smell very good, especially in the drydowns, and the packaging is lovely, so why be picky? We should maybe just relax and enjoy.