Ilaya by Isabel Derroisné (2007) {Perfume Short (Review)} {New Fragrance}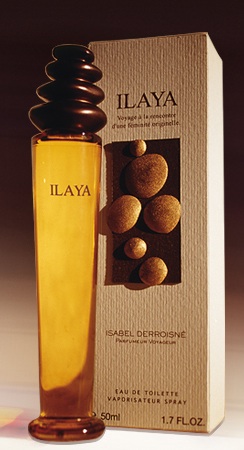 Ilaya by Isabel Derroisné, 49 € or US $ 70 (now 29 € or US $ 41.45)

Ilaya is the latest perfume by Isabel Derroisné. It is presented as an incense and coffee perfume offering, "sensual ancestral notes" such as myrrh, frankincense, benzoin and "contemporary notes" such as a moka coffee accord. The scent is said to offer a velvety oriental texture (from our previous post).

The perfume was composed by perfumer Jérôme Epinette of Robertet who has also created recently Fougère and Poudré by Jovoy.
Ilaya seems to be a perfect fit for the colors of fall and the quest for hushed-down warmth and sensuality. Past the opening, which feels more like a light hors-d'oeuvre than a real glimpse of things to come with its citrusy, aromatic, yet somewhat crunchy-green notes too of bergamot, ginger, and cardamom, Ilaya offers the feel of a soft amber-y oriental next. It develops along the way a certain reverberative character, lift, and resonant aspect that one associates usually with chypre fragrances. The oriental character of the fragrance is thus a bit dual and more aerial than usual.....
If the scent seemed at first to take the paths trodden upon by perfumes such as Belle en Rykiel by Sonia Rykiel and Passion Brésil by Esteban with their aromatic coffee notes and even hints of raw greenness for Passion Brésil, it finally reveals its unique character in the dry-down, which is rich, resinous, deep, and even, one will have to admit, intoxicating.

So many perfumes nowadays offer weak or polite dry-downs that seem wary of social contact through scent that it is a welcome sensation to be able to experience the fullness of a scent in its last stages. If a perfume is all about a lasting impression, we want the tail of that comet to trail on, linger on in our nose and in the memories that we create thanks to it. This type of dramaturgy, which places the twist at the end, also makes you experience the perfume anew in a different light and with a different meaning when you put it on again. The notes become colored by the richness of the story at the end and anticipation.

The coffee accord in Ilaya is based on a note of moka contrasted with jasmine and ylang-ylang in the heart, which offers an interesting sensation of slight quirkiness to the nose. The coffee here is not black and dry as in Café Noir by Ava-Luxe or milky and sweet as in New Haarlem by Bond No 9, but jasmine-y, floral, a bit sexual and feminine as ylang-ylang is always able to convey such an impression, with an undercurrent of raw greenness followed by warm resinous notes. The coffee seems to have been brewed with partly green beans of coffee.
Ilaya smells better and better over time pulling you by the nose, compelling you to pay attention to itself even though you thought you had figured it out, deepening into a sweet amber-y and incense-y dry-down that is rich and complex offering the sensation of a polyphony of warm browns, deep earthy reds and terracotta notes. The incense is resinous and "oily", almost like tears of maple syrup, rather than dry and smoky although there is a slight smoky edge to the fragrance. A light fresh aromatic character introduced in the beginning resurfaces from beneath a texture that is more like lava, yet lets hints of coolness peak through which contribute to the perfume. The longer dry-down is reminiscent of the smell of powdery cacao.

Ilaya proves in the end to offer an addictive character with its promise of warmth and sensuality that is more than fulfilled. Edmond Roudnitska once said that a perfume, theories of aesthetics put aside, had to smell good in the end and this one does surprisingly so, reminding you of the meaning of "good" in the most generous sense of the term and recalling to your mind that it is ideally associated with an authentic feeling of plenitude.
According to the brand, Ilaya contains 1% of African Oriental Myrrh essence, 0. 25% of Opoponax absolute from Oriental Africa, and 0.2 % of essential oil of incense from the same region.
Top notes are bergamot, ginger, cardamom; heart notes are moka, jasmine, ylang; base notes are benzoin, patchouli, myrrh, incense, opoponax.