Classic Chypre & Modern Chypre by Esteban {New Perfumes}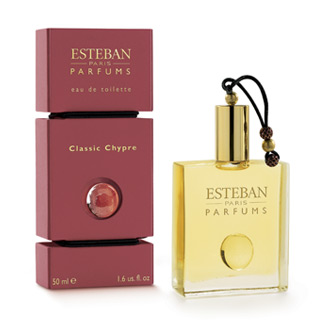 Esteban
this fall has decided to bring its contribution to the universe of chypres by issuing two new compositions,
Classic Chypre
and
Modern Chypre
. The chypre family of fragrances has been notably revived in the past year with more fantasy brought to now so-called modern types of chypres, which will not hesitate for example to include a gourmand accord like in
Liberté by Cacharel
or any other notes not traditionally found in chypres, yet respecting the contrasted luminous and earthy chypre structure all the while. One can see this as a paradoxical movement as a traditional ingredient used in chypres, oakmoss, is no longer in use due to an EU regulation......
Some of the new chypres or modern chypres have replaced oakmoss with substitutive ingredients like in 31, Rue Cambon by Chanel.
Classic Chypre is " Like an intense presence of rare elegance… A chypre harmony or an aromatic hesperidean surge opening up onto a spicy floral heart on a woody patchouli-moss base."
Modern Chypre is said to be "Like a delicious version of a legendary perfume… Sparkling modernity of citrus-fruity notes with a delicate floral heart sustained by an amazing rich patchouli base."
The perfumes are available in the Esteban boutiques in Paris and at Senteurs d'Ailleurs in Brussels for 55 € each.