Paco Rabanne pour Homme by Paco Rabanne (1973) {Perfume Review & Musings} {Men's Cologne}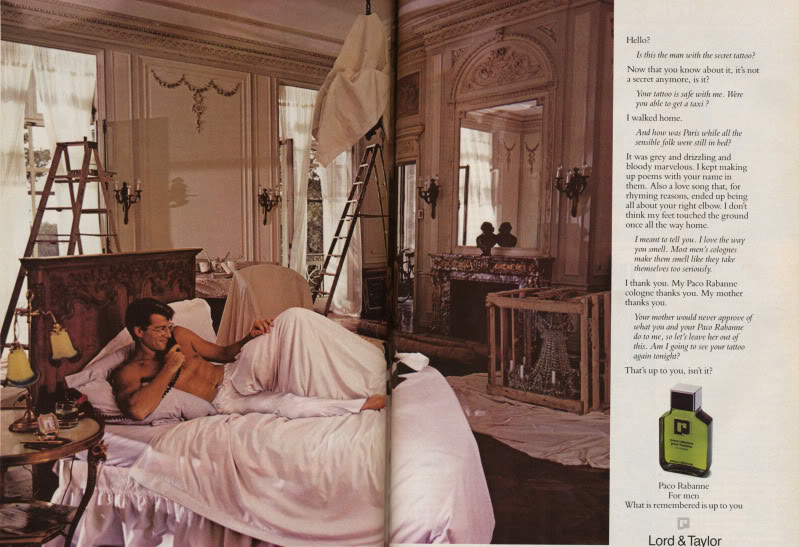 A 1986 Advertising for Paco Rabanne pour Homme
Paco Rabanne pour Homme by Paco Rabanne ≈ Perfume Review & Musings
Paco Rabanne pour Homme by Paco Rabanne is a distinctive masculine fragrance in a world where men's colognes are more often than not accused of feeling as dull as dishwater as if their sole raison d'être was to attempt to mirror the ideals of the conservative man's dress code.
Like a tie that ought to blend in seamlessly with a grey suit rather than become a clashing focal point of social attention and judgment, the average mainstream cologne is business-like striving to self-efface in the professional field. Some men will protest and exhibit an accepted sign of eccentricity such as, say, the polka dotted bow-tie or the cartoon-covered tie - riskier this one - but the gesture rarely extends to their equivalents in perfumes.
Fortunately, Paco Rabanne pour Homme sends a subtler message than the desperate outreaches for color that men in grey or black sometimes dare experiment. It offers more depth, character, and presence than your average non-intrusive cologne, without imposing too much on the senses. In other words, it is distinctive, but not showy or angling for flamboyance.
In 1975 its particular charm did not pass unnoticed and it managed to snag two FIFI awards for "Most Exciting Men's Fragrance" and for "Most Appealing Men's Fragrance Package", this one designed by Pierre Dinand .....
When it was created in 1973 by perfumer Jean Martel, its distinctiveness was acknowledged and contributed importantly to the pull of the market in the direction of the launch of more masculine fragrances and a better acceptance by men of the perfuming gesture.
The distinctiveness of Paco Rabanne pour Homme also ensured that it would become the source of inspiration for another great masculine fragrance to come five years later, Azzaro pour Homme, which was inspired by it and conceived as an "improved" variation on it. Professionals from the industry consider Paco Rabanne pour Homme by Jean Martel to have been a very creative fragrance. Please consider this review as a genealogical one leading to a second part which will be devoted to - and here it is - Azzaro pour Homme.
Paco Rabanne pour Homme has remained in the good graces of the public despite the fact that Azzaro pour Homme is actually the most spectacularly popular one of the two in France today. Nonetheless in 2005 the Marionnaud chain of stores decided to elect Paco Rabanne pour Homme as one of their 20 perfume legends to celebrate during that year. Next to Azzaro Pour Homme it presents similar warm resinous and honeyed notes contrasted with a fresh fougère accord, but as if dressed in green.
The cologne, categorized as an aromatic fougère, starts with a rather classic (at least today), fresh, and pleasant accord reminiscent of good colognes found on certain international flights. But it quickly deepens into a richly resinous, slightly animalic and dark green pine-y accord conjuring up a dark forest - and by association - the green cypress candle by Rigaud, Cyprès, a very popular candle in France about which someone once wrote that it is to be found in every good bourgeois home.
The honeyed and amber-y tobacco nuances bring a richness and contrast to the scent that leaves the notion of restraint aside. The honey in this scent is sweet, animalic, thick, suggestive of dark candied fruits and would not be misplaced in a Serge Lutens creation, except for the contrast with the more classic underlying fougère accord. From this voluptuous passage emerge lighter green herbal-y notes: the pungency of the tarragon, the vegetable-like raw scent of lentisc, and the airy, oxygenated lavender which are especially perceptible making you think of kitchen herbs.
The dry-down plays with a clean soapy sensation rather than opts for a further deepening of the notes so that the most dramatic and excessive moment of the scent is in the middle stage. The final notes nevertheless retain texture and depth - and a certain subdued darkness. It can smell very musky even evoking old-school musks.
Paco Rabanne pour Homme is more linear than Azzaro pour Homme, comparatively less complex, and not as long-lasting, yet retains individuality and personality thanks to an interesting amped up cold-warm contrast, noticeable depth, and a dollop of dark green resins that, especially for the latter part, one will not find in the successor scent.
The composition evokes a man with a marked personality but who does not like to overdo effects and keeps a rein, but not too tight, on his sensuality and emotions. Having said that, and as the adverts healthily remind potential wearers, Paco Rabanne pour Homme will not offer one a full-fledged strong personality just by wearing it and hiding one's lack of charisma underneath its effluvia; you have to make it work and meet it somewhere half-way.
Top notes are bergamot, thyme, rosemary; heart notes are tarragon, lentisc, clove; base notes are cistus, tobacco, fougère accord.
(Photo sources: Images de Parfums, Okadi)