Agent Provocateur Strip Gets Real {Fragrance News}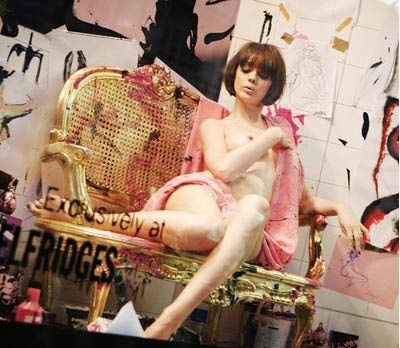 Agent Provocateur plays marketing hardball with the help of Jen Dawson desnuda in Selfridges

As the Brits say, model Jen Dawson sat in that Selfridge's window on Thursday February 21st "startkers. Starkers"... to help call attention to the new perfume Strip by Agent Provocateur. It is a very good perfume, but rather than to spray it on the passers-by they decided to offer visual stimulation to potential customers and onlookers. Did they remember to buy the perfume for their wives and girlfriends?...

At any rate nobody will be able to fault the brand for coming up with something that is lacking in coherence with their image. Is this a gauntlet thrown at Etat Libre d'Orange from across the Channel? Walk the walk, talk the talk.
For a franker look at the model, here is another pic
Read more in the London Paper...

Other source: Ad Freak