Naturelle d'Argan: The Call of Morocco - The Green Spirit of the Hammam Part 2 {Beauty Notes} {Skin} {Hair} {Nails} {Green Products}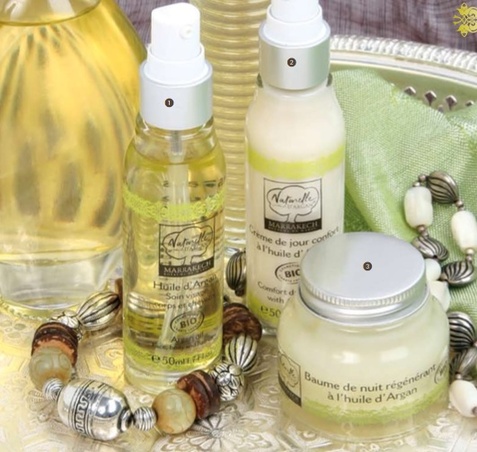 1. Organic Argan Oil 2. Comfort Daily Cream (6% Argan oil) 3. Regenerating Night Balm (50% Argan Oil). Photo © Naturelle d'Argan

The Lure of Argan Oil by Guest Contributor Pauline

Surfing on the Argan oil's wave, Naturelle d'Argan is an organic and ethical skin care range, which uses the highly regenerative oil of Moroccan origin that nourishes, protects and moisturizes the skin.

The 100% organic argan oil is reported to contain over 20 nutrients for the skin, such as Omega 6 and Omega 9, vitamin E and Polyphenol, which are powerful anti-oxidants. Berber women, who have traditionally been in charge of the hand picked harvests of Argan nuts, use this anti-aging oil for their beauty rituals (body, hair and nails).

The Naturelle d'Argan range comprises 4 face and 3 body skin cares, including an original exfoliating cleansing gel made of finely ground Argan seeds and apricot kernel. The Argan oil, called "Pure Argan Elixir," is labelled "Cosmebio", which guarantees the use of a minimum of 95% of natural ingredients and 10% of bio ingredients. It is Paraben-free, Silicone-free and GMO-free ingredients. The oil can be used for face, body and hair-care.....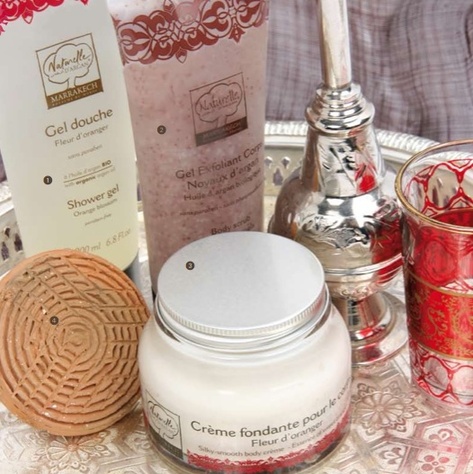 1. Argan Oil Shower Gel - Orange Blossom 2. Body Scrub with Argan kernels 3. Silky-smooth Body Crème - Orange Blossom 4. Traditional terracotta exfoliating stone. Photo © Naturelle d'Argan

I particularly liked the fine texture of the oil, which leaves a thin almost iridescent film on the skin and does not look nor feel "oily" on the face, provided it is used in a reasonable amount. It gives a nice glow to the skin. This Argan oil also did wonders on my dried limbs at the end of winter, and I could notice some improvement of the skin, which appeared more supple and moisturized.

Here is a beauty tip offered by the brand: the oil can also be used to strengthen the nails by soaking them for 15 mn in a solution composed of equal amount of argan oil and fresh lemon juice. Finally it can be used as a hair conditioning mask which will restore body and shine to the hair and make split ends history.

The brand prides itself in supporting sustainable development by improving the socio- economic conditions of women through literacy and training programs, and also by committing to the preservation and development of the Argan Biosphere Reserve. Argan trees grow only in Morocco, in a zone that is limited between Essaouira and Agadir on the Atlantic cost of southern Morocco.
Naturelle d'Argan will be called Naturelle d'Orient in the near future.

Website: www.naturelledargan.com
Marie-Hélène will follow up on the topic of Argan oil with reviews of an organic grade Argan oil sold in the US market and Korres Wild Rose Mask which contains Argan oil.
You can read Part 1 of The Green Spirit of the Hammam