A Visit to the Exhibition on Marie-Antoinette at the Grand Palais {Scented Paths & Fragrant Addresses}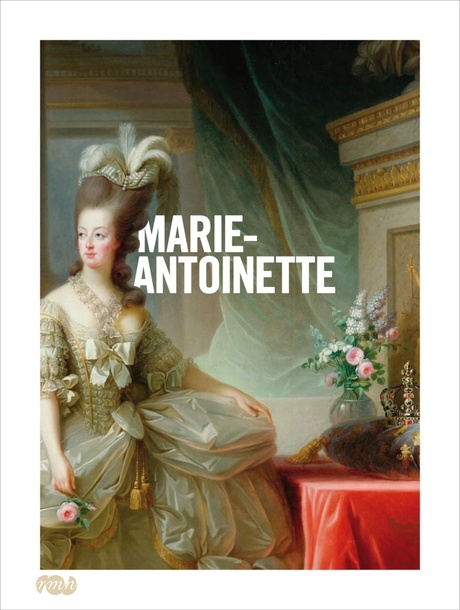 A Visit to the Exhibition "Marie-Antoinette" in Paris by Guest Contributor Pauline
"Moving" is the word that best describes the overall feeling I retained after I visited the exhibition "Marie-Antoinette" currently on view (until 30 June 2008) at the Galeries nationales du Grand Palais in Paris.

Although much has been written about the life of the last queen of France (1755-1793) and her private quarters can be visited at the Château de Versailles, it was the first time that I have had the opportunity to experience so palpably actual everyday objects that were seen, used, and worn by Marie-Antoinette. The fate of the young Austrian archduchess - who was born in 1755 - was sealed when she was only 9 years old when her mother, Empress Maria Theresa of Austria, decided to conclude a political marriage alliance with the heir to the throne of France. She was married in 1770 at age 15 to the Dauphin, the future Louis XVI, and became queen at the age of 20........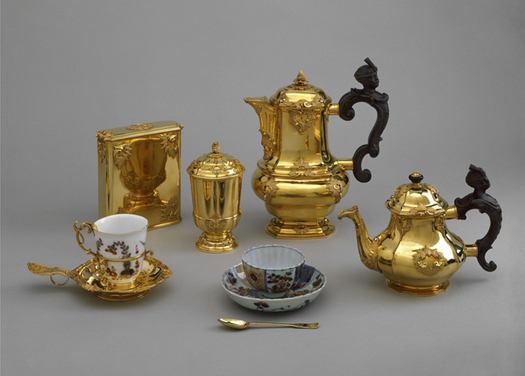 The lunch set used by Marie Theresa empress of Austria, the mother of Marie-Antoinette. She had 16 children with Francis I Holy Roman Emperor and Duke of Lorraine.
In the background, a portrait of the royal family by Elizabeth Vigée-Le Brun
A reconstitution of the queen's necklace by Charles Auguste Boehmer and Paul Bassenge, XXth c.
The Paris show features over 300 objects drawn from European collections including numerous portraits and drawings, daily life objects such as delicate European porcelain, and Japanese lacquerware that Marie-Antoinette was very fond of as well as the replica of the infamous "collier de la Reine" (queen's necklace) all objects which allow us to take a close look at her intimate life and that of her family.
Japanese lacquerware - box in the shape of a fan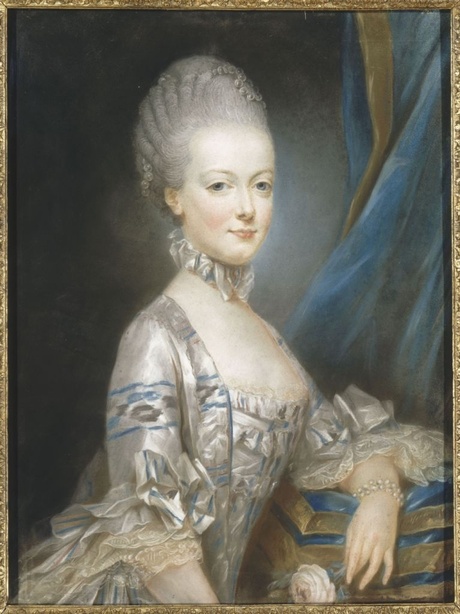 Portrait of Archduchess Marie-Antoinette by Joseph Ducreux, 1769
Much of the focus of the paintings on display is on the topic of Marie Antoinette's dissatisfaction with her painted portraits which she found didn't render her true self.
She however found her artistic match with the young woman painter Elisabeth Vigée-Le Brun who was the same age as hers and who produced about thirty portraits of Marie-Antoinette over a period of 10 years.
Vigée-Le Brun managed to make Marie-Antoinette's feminine and sensitive sides come out more by softening the queen's features focusing on her large blue eyes and highlighting her delicate fair skin. Although statements vary regarding the queen's beauty many agreed that she had grace, charm, and poise as well as a noble demeanor. Her radiance and complexion were universally praised too. "Her skin was admirable, as well as her shoulders and her neck... I never saw again such beautiful arms and hands" reports Alexandre de Tilly (1764-1816) in his Mémoires who himself was a little more than reserved when evaluating her other features.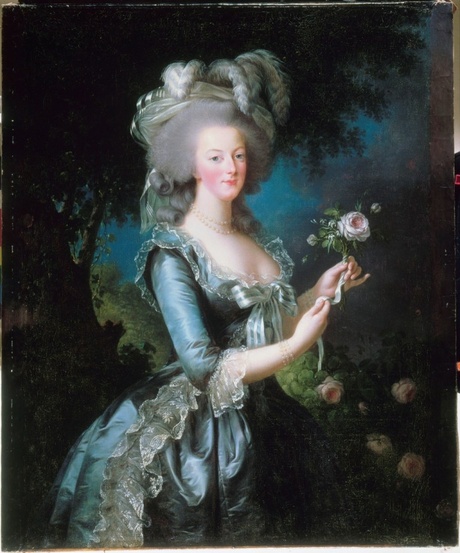 Portrait of Marie-Antoinette by Elizabeth Vigée-Le Brun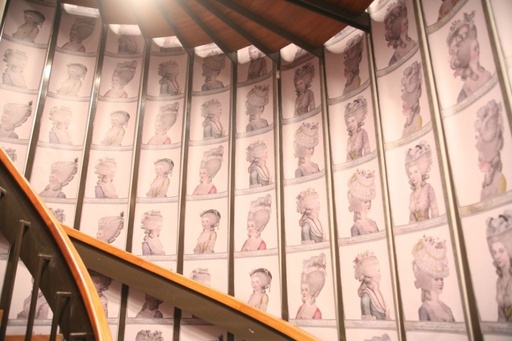 Stairwell at the exhibition decorated with engravings of 18th century hair fashion

I was slightly disappointed not to see much about her influence in the field of fashion and beauty (besides the dresses and hairdos represented in paintings).
The show displayed only images of the extravagant XVIII century hairdos that were built upon a core made of gauze as well as the white shirt Marie Antoinette wore while in prison.
A painting represents Rose Bertin who was a famous milliner and hat-seller - and the queen's personal dressmaker. Together with the queen's royal hairdresser Léonard, Bertin designed the "pouf" (raise) for hair which could go up to three feet high found in various shapes, styles or decorated with figurative objects echoing current social or political events.
The hairstyle "Belle Poule" for example featuring a ship on top of the hairdo refers to the French ship of the same name which was involved in the American War of Independence and which was selected to bring Benjamin Franklin back to America in 1778.

The queen would order about 170 dresses per year. The First lady in waiting would bring every morning a book with samples of fabrics for each of the garments in the queen's wardrobe. Marie-Antoinette would then make her selection by pinning down three to four samples for the dresses she would wear later on during the day.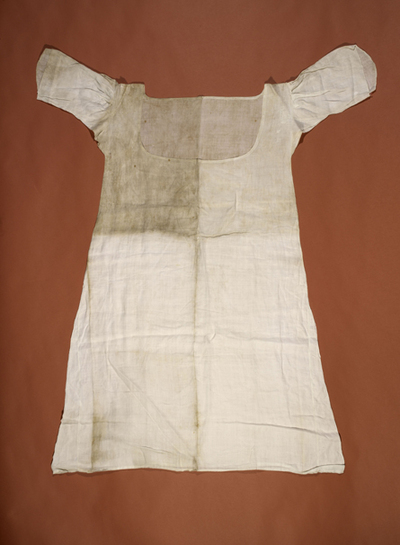 A more frugal - and gruesome sight - is that of a white undergarment tunic worn by Marie-Antoinette when she was in prison at the Conciergerie. It draws a sharp contrast with the splendors of court life reminding visitors of her tragic end.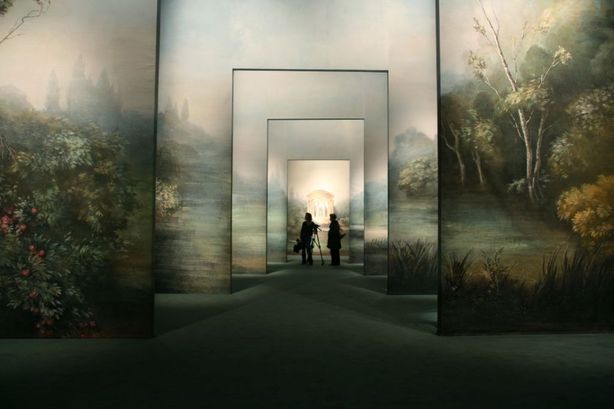 The exhibition scenography was designed by master of operatic enchantments Robert Carsen who as artistic director for the exhibition succeeded in recreating a cosy yet elegant atmosphere through the use of deep burgundy red and blue exhibition walls as well as large painted panels representing beautiful classical landscapes.
Those panels appear to emulate the gardens of le Petit Trianon - a replica of a countryside cottage - where Marie-Antoinette liked to retreat to escape the strictures of court etiquette.
One of the highlights of the show is a set of XVIII century painted theater panels used to decorate a theater stage which reminds us of the fondness of the queen for theatrical representations. At her request a small theater was built in the gardens of the Petit Trianon where she enjoyed taking part in plays (often playing the role of "ingénues" and "soubrettes" (maids) for the King as well as close acquaintances.
A so-called "nipple bowl" from the Rambouillet dairy - Marie-Antoinette also liked to play farmer
A lapis lazuli cup in the shape of a boat (nef)
Having learnt more about the environment and society in which Marie-Antoinette lived I left the show wanting to watch again the movie "Marie Antoinette" by Sofia Coppola. A nod is given by the way to the film: to re-energize yourself after seeing over 300 objects one can rush to get some colourful and delightful macarons from Ladurée which supplied the movie set. The ones perfumed with "cassis-violette" (violet and blackcurrant), "réglisse" (licorice) and "caramel au beurre salé" (salted caramel) are to die for!
All pictures in this article are courtesy of the Galeries nationales du Grand Palais.
You can read Marie-Hélène's review of MA Sillage de la Reine, a reconstituted perfume by Francis Kurkdjian corresponding to the tastes of Marie-Antoinette as well as her book review of A Scented Palace, a biography of Marie-Antoinette's perfumer Jean-Louis Fargeon.