Miss Ferling Baume de Dalmatie & Herbacin Kamille + Glycerin: 2 Hand-Creams Go Mano a Mano - Beauty Review {Bath & Body} {New Product}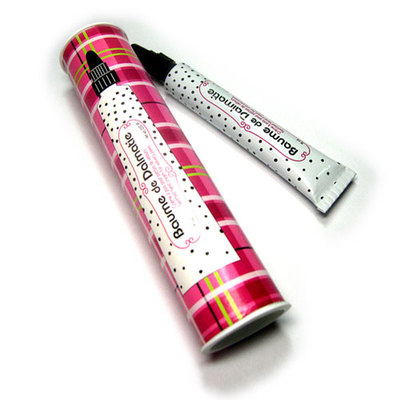 Miss Ferling Baume de Dalmatie
Baume de Dalmatie is the latest cute and cool hand-cream from Miss Ferling, a French brand. The packaging, a fun-looking tartan-decorated cardboard tube containing a slim and petite 15 ml metallic tube, is attractive although the cream tube looks a bit reduced and makes you think that the cream better be ultra-concentrated to justify the down-size.
Described as a "spotted hand cream for velvety paws" the Baume is cool-looking because it indeed contains black spots on a white background although these are not as numerous as on the spotted packaging. One squirt and you get 2 dots. The black dots are licorice and lily and advertised as ultrasoftening agents.....

The verdict:
Although the cream is actually noticeably softening and indeed makes your hands feel more like velvet, it is not very hydrating. Would there be an in-depth action after a few hours? It improves a bit, but not much. The hydrating action of the Baume is middling. There is an effect but honestly, we have seen better.

Even if the concept and the gourmand smell of the cream are simpatico, the Baume de Dalmatie ends up feeling like a let-down. Its mini size does not in fact imply an ultra concentrated formula. The design points more to the concept of hand-cream as fashion accessory, one that would look so trendy as you whip it out of your bag. Indeed as the ad copy stresses, "This white cream is so chic, with melting black dots....." emphasis on "chic" and that seems to be the main point.
The fashion-conscious can find it at Beauty Habit for $ 16,50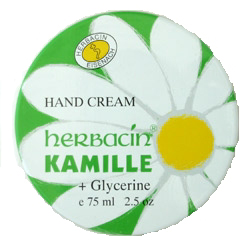 Herbacin Kamille + Glycerin
Herbacin Kamille + Glycerin is a hand-cream from Germany. It touts a triple action: soothing thanks to Chamomille, hydrating thanks to Glycerin, and protective thanks to Silicone.
This is a good to very good hydrating hand cream. It is very effective at retaining moisture and for a long time at that. It has a plumping effect too as the water remains contained. The scent is, fortunately, on the discreet side and evaporates after a few hours.
It does not have SPF sunscreen but as an effective barrier against dryness it is one of the best. It lasts longer than Neutrogena for example and is more pleasant to use, with more of a thirst-quenching sensation for your skin.
Its moderate price, a 2. 5 oz tin is priced at $5,75 at Small Flower and elsewhere including Wholefoods, means you can slather it on without drilling a hole in your budget. Available in tube packaging as well, which might be more practical if you want to carry it around in your bag as the top of the tin does not screw on.