Naomi Watts is New Thierry Mugler Angel Icon {Fragrance News - News Flash} {Celebrity Fragrance}
Actress Naomi Watts in Los Angeles on May 5th 2008
Hot off the wire. In a move to link perfume and Hollywood glamor, it has been announced today that actress Naomi Watts will be the new icon for the fragrance Angel by Thierry Mugler starting this fall. As underlined by the press release, previous advertising campaigns for the first oriental gourmand that is Angel were graced in the past by beautiful feminine models but this time, "the new incarnation is more star than ever." Advertising campaign will break in national publications from October 2008.
This is an interesting choice and goes well with the image of the perfume, we think, especially if you recall Mulholland Drive. Angel despite its international success still manages to keep a little bit of a strange flavor, a quirkiness in the midst of success and Naomi Watts offers this quality......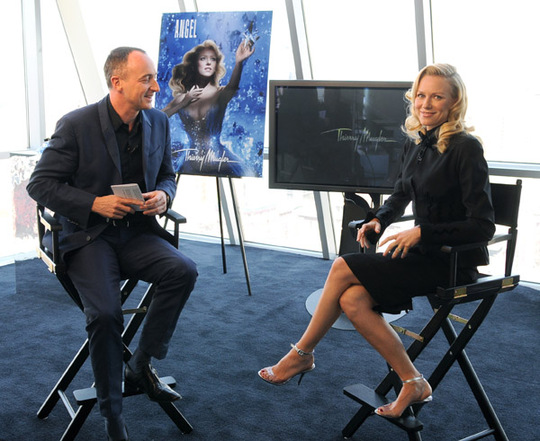 President Thierry Mugler Worldwide Joel Palix with actress Naomi Watts

"Naomi Watts was the inspired choice for Thierry Mugler, over and above her beauty and her star image. Displaying a modern touch, the actress projects a personality that blends sensuality, voluptuousness and evanescence to evoke the many facets of ANGEL. A blond fragility, a natural tenderness, an emotional seductiveness…" [...]
"The artiste perfumer's new angel, Naomi Watts, is an Academy Award nominated actress, who has appeared in an impressive list of films since her notable debut in David Lynch's "Mulholland Drive." Successfully steering her career and choosing her films with care, she has worked with leading directors: Alejandro Gonzalez Inarritu ("21 Grams"), Peter Jackson ("King Kong"), David Cronenberg ("Eastern Promises"). In 2008, she is starring in Michael Haneke's latest film, "Funny Games," and in 2009 she will star in Tom Twyker's film "The International" with Clive Owen."
The commercial for the new ad campaign was shot by director Bill Condon (Dream Girls). It is described as a "Hollywood fairy-tale surrounded by a profusion of Angel stars." Photographer Ali Mahdavi was enlisted to create the visuals that will serve as adverts.
The news were announced at a press conference appropriately located in the City of Angels, at the Hotel on Rivington on May 5th 2008.
Via Thierry Mugler press release