Mustela StellaProtect •• New Skincare Line for Sensitive Skin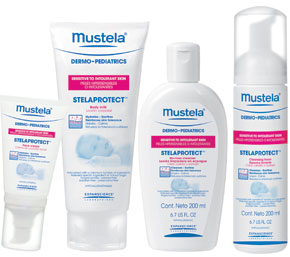 Mustela, a great beauty brand for those who seek out gentle products for both mom and kids, is launching a new dermo-pedriatic line for mom-to-bes and toddlers called StellaProtect.
It was especially formulated to help relieve complaints about uncomfortable sensations during pregnancy and fear of increased sensitivity; apparently, women also think that they might pass on this sensitivity to their children....

Well, Mustela is there to assuage their fears. The new line includes a "Face Cream, meant to hydrate and sooth tightness and discomfort, $16; Body Milk, a water and oil emulsion, $18; Cleansing Foam, a gentle cleanser for the face, body and hair, $16, and a No-Rinse Cleanser, a gel meant to be used with a cotton ball for the face, body and diaper area, $14.
All products use a patented active ingredient of avocado sugar, which is extracted from dried avocados, and are said to reinforce and restore the skin barrier to create a tolerance against any skin irritants. These products are also free of fragrance, colorants, parabens and preservatives, and are also hypoallergenic."
Expect to see these on shelves from mid-August 2008 at Babies 'R' Us, Bath & Body Works, Buy Buy Baby and Drugstore.com
Via WWD