Confessions of an Ex-Fragrance Model - Part 4 {Fragrant Reading - Writing}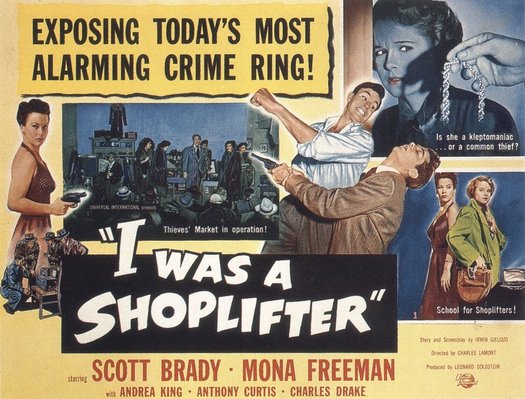 I was a Shoplifter, movie poster from
Paxarcana
Please read
Part 1: Stardust
,
Part 2: The Hunt
, and
Part 3: Jargon
, if you missed them
Confessions of an Ex-Fragrance Model
by Guest Contributor
Christina WarinnerPart 4: Special Clients
At our store, we had two very special clients. Both were over sixty, fabulously wealthy, and committed shoplifters. They were distinct, however, in method and manner. The first, Mrs. L, repeatedly returned an empty bottle of Chanel No. 5 parfum, complaining that it smelled terribly. She couldn't wear it, and she would demand a new bottle to replace it. The trouble was that she did wear it, obviously, which is why the bottle was always returned empty. She had a grandiose style, and she'd fling her shawl over her left shoulder for dramatic emphasis as she described its terrible, stale stink to everyone in eavesdropping range. A few pages into the well-worn script at this point, I'd play along, abhorred, and call our store manager, who'd shepherd her into his secluded office. Thirty minutes later she'd emerge, beaming, with a new bottle of Chanel (I think he kept a case in his office). Then he'd discreetly send off a bill to her husband...
The other client, Mrs. M, was more difficult. With Mrs. L, we knew what she was stealing, but Mrs. M was a quiet storm. Her weakness, it seemed, was cubic zirconia set in sterling silver or 18k gold. She'd sneak over to the unattended jewelry counter and stuff her purse with rings and bracelets. The fact that she was shoplifting was not in doubt; in fact, it was plain for all to see. The challenge came in trying to figure out what she stole while pretending not to notice what she was doing. That, and preventing other customers from noticing the theft. As the wife of a prominent local business man, it would have been humiliating for him to have his wife accused or arrested on shoplifting charges. Being the upscale department store that we were, we offered the service of looking the other way and sending a monthly bill for the damages. Such arrangements, while not uncommon, must be kept secret - from the shoplifter, the other clients, and the public. Being the closest counter to the costume jewelry, it fell upon me to periodically survey for losses, write up a list, and practice the art of misdirection with the other customers. Fortunately, wielding a bottle of Must de Cartier, this wasn't too difficult. It takes a strong, slightly fermented woman to pull off its pungent galbanum scent, and most of the customers steered clear.
Eventually, my days at the department store came to an end. Our distinguished store manager, who was so skilled at handling our eccentric clients, got into a terrible car accident in Mexico while visiting a young Mexican "friend." Upon waking up from his coma, he revealed that he was gay, and was promptly divorced by both his wife and the store. The company was on the verge of bankruptcy anyway, and within a few months our store closed its doors forever. My days in the fragrance industry had come to an end.
Today, you can still visit the store. It's a Macy's now, but they have more or less retained the same layout and stock. The fragrance counter is still located at the front, the first line of attack on the well-heeled customers. Stardust, however, has disappeared from the glass cases. Miraculously, the entire stock eventually sold out, months after the company fired all its fragrance models and probably with the help of impromptu two-for-one deals and five-fingered discounts that the employees devised. After the store closed, the Angel and Creed reps moved on. Maybe the Angel rep went back to cosmetology school like she always wanted. As for Mrs. L and Mrs. M, I suspect that their husbands have made arrangements at other stores, most likely the new Nordstrom's at the mall.
Christina Warinner
is now a Ph.D. student at Harvard University and spends her summers excavating at sites in Mexico, looking for traces of past epidemics. She spends the rest of the year teaching tomorrow's best and brightest in the classroom for far less than she made as a Stardust rep. She still keeps Powder Fresh Secret in her medicine cabinet and doesn't own a single bottle of perfume. However, she will admit that when she gracefully dodges the fragrance counters at the Cambridgeside Galleria mall, deftly cutting left and right, she's tempted to slow down a bit, let herself be caught, and bathe in a fine floral mist.