Estée Lauder Super Flight Creme for Men & Women (2008)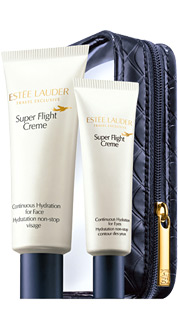 Don't you love those creams that were specially designed for countervailing the harsh effects of driving in a sports car by the Riviera (let's keep up with the glam factor) or sailing on a yacht around the Mediterranean ? OK, I am not so sure about the latter, but there is a countess who had a cream designed for her in the 1930s, no doubt, delicate skin, when driving in her convertible.
Now,
Estée Lauder
has come up with the brilliant idea of creating a
Super Flight Creme
(and let's hope it's a good product) for those of us that need a little extra beauty help when traveling the not-so-friendly-skies-to-the-skin. Reportedly, the humidity level can drop as low as 8 % when you are in a flight cabin becoming comparable to a crossing of the Gobi desert, if I am not mistaken...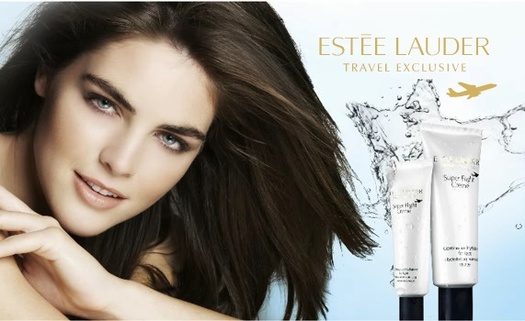 The Super Flight Creme cleverly presents itself as an unisex cream, so Gentlemen, prepare to groom.
The set comprises a cream for the face and one for the more sensitive area around the eyes. It also aims to offer longer-term benefits by providing moisture to "travel-stressed skin" in general.
According to the ad copy,
"
PRE-FLIGHT:
Before you take off, smooth on both luxurious cremes to help keep skin and eye area hydrated all during your flight.
Super Flight Creme
instantly drenches skin with refreshing moisture and then speeds hydration deep within skin's surface.
Over time, precious lipids work to help rebuild skin's protective barrier, sealing in moisture. The result? Skin feels soft, supple and hydrated, even during endless flights.
EN ROUTE:
Moisturizing benefits last for 8 hours, so you arrive looking visibly more rested, radiant and luminous.
During your flight, sit back and relax as a powerful complex of anti-irritants visibly soothes and calms skin, enabling it to better recover from long flights and the visible effects of traveling through multiple time zones.
ON ARRIVAL:
Skin looks re-energized with the help of an anti-fatigue cocktail of vital nutrients and minerals.
The skin around the eye looks less puffy and the appearance of dark circles is dramatically diminished.
Skin looks visibly more rested, radiant and luminous--no one will believe you just stepped off a plane.
Both face and eye formulas have lightweight, non-greasy, fast-absorbing gel creme texture.
For all skintypes. Both are fragrance free, oil-free, non-acnegenic, and ophthalmologist- and dermatologist-tested."
Super Flight Creme launched this month and is a travel-exclusive. Look for it in duty-free boutiques.