To Smell the Scents of Versailles Thanks To Francis Kurkdjian: Les Grandes Eaux Nocturnes {Scented Paths & Fragrant Addresses}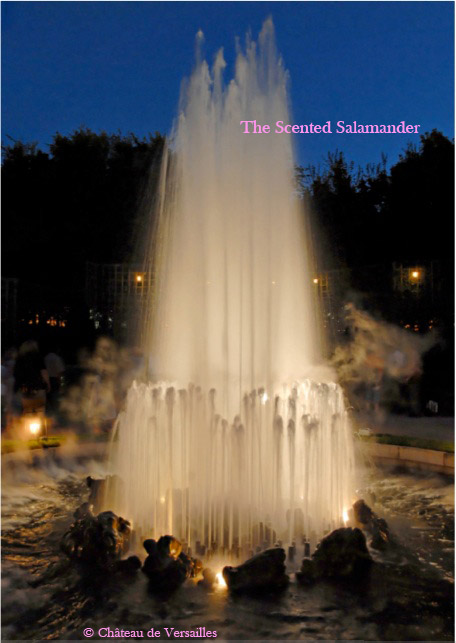 This summer the
Château de Versailles
is organizing a nocturnal revelry rivaling with the festive past of the French court at the time of Louis the XIV th. And just like in the 17th and 18th centuries, the grounds are open to the public. Les
Grandes Eaux Nocturnes
(Great Nocturnal Fountain Waters) started on July 26th and will continue to be performed on Saturdays August 2, 9, 16, and 23, 2008 from 9: 30 pm to 11: 30 pm. Additionally, a "Parcours du Roi" (King's Itinerary) is offered from 6: 30 pm to 9 pm to visit the royal apartments at Versailles as the sun downs.
Fragrance lovers will be glad to know that part of the spectacle has been entrusted to perfumer
Francis Kurkdjian
who has recreated some of the scents that permeated the air at the time of the splendor of Versailles...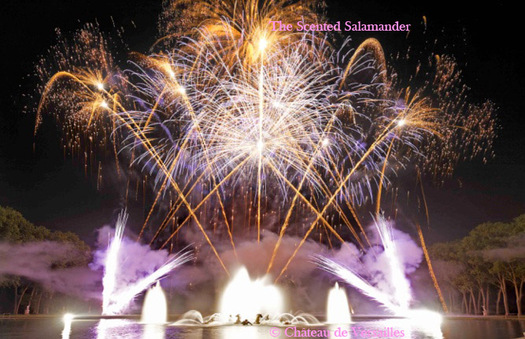 Kurkdjian
has already been a perfume MC for Versailles's open-sky spectacles
in the past and also composed a historically re-imagined perfume of Marie-Antoinette called
M.A. Sillage de la Reine
.
This year the nocturnal clebration includes three fragrant stops that have been "put into perfume", alongside with the possibility to listen to baroque music performed by
Musica Antiqua Köln
and watch fireworks.
The
Bassin de Latone
completed in 1689 by Hardouin Mansart will let thousands of bubbles escape from its midst, scented with the smells of Louis XIV's favorite fruits: strawberry, peach, melon.
In the
Bosquet de la Salle de Bal
, Kurkdjian has recreated the fragrant powdery atmosphere of a Baroque ball inspired by the "makeup scents of the dancers", thanks to 600 burning candles.
Next, in the
Bosquet des Trois Fontaines
, other perfumed creations await you such as rose-scented fountain water.
Accès : Place d'Armes - Cour d'Honneur - 78000 Versailles
Tarifs : tarif plein 19 € • tarif réduit 15 € (moins de 18 ans, étudiants, groupes à partir de 30
personnes) • gratuit moins de 6 ans
Renseignements / Réservations : Tel. 01 30 83 78 89 - www.chateauversailles-spectacles.fr
fnac.com ou 0892 68 36 22 (0,34 € mn), ticketnet.fr et réseaux Carrefour, Auchan, Leclerc,
Virgin.
Via Château de Versailles press release,
femmes.com