Bill Blass Couture Perfume Collection: 1, 3, 6, 7 & More (2008) {New Fragrances}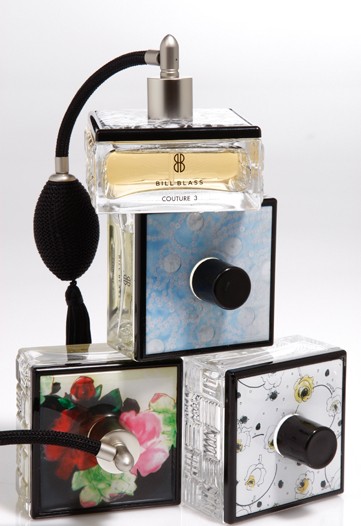 Designer
Bill Blass
is symbolically reinforcing the crucial link existing between fashion and perfume by launching a brand new collection of four fragrances inspired by the couture spirit, and more particularly, fabric patterns featured in Blass's own fashion collections.
The scents are titled
Couture 1, 3, 6
and
7
. They were developed by First American Brands and purport to be "very niche", a fact immediately apparent in their prices, at $150 each (down from a $175 quote last year). All four perfumes are homages paid to the four most beautiful dresses by Bill Blass seen on the catwalks. More are to be expected in the future, along the same theme and at the pace of two every year ...
According to
WWD
,
Couture 1 and Couture 6 were composed by perfumer
Pierre-Constantin Guéros
.
Couture 1
has notes of white tuberose, mandarin, peach and orange blossom. The bottle has a black-and-white print of a fabric design, highlighted by yellow roses. The pattern is from a day dress in this year's resort collection.
Couture 6
includes notes of rose, apple blossom, blackberries and patchouli. It has a red, pink and white floral motif taken from a day dress in the fall 2008 fashion collection.
Couture 3
was created by
Valérie Garnuch
. The scent has notes of sandalwood, bergamot flower, apple blossom, cardamom and ginger. The bottle is decorated with a gray pattern of feathers and beads taken from an evening gown found in the spring 2008 collection.
Couture 7
was imagined by
Delphine Jelk
. It rests on notes of bitter orange, cedrat, pink pomelo, French tarragon and orange flower. The flacon features a beaded, sequined pattern from a dress in the 2008 resort collection.
Cosmetic News last year reported that all four compositions quote the queen of flower, rose and that "
No 1 is a single floral with crisp, springtime notes such as white tuberose. No 2's textured woody spicy juice with apple blossom and sandalwood was inspired by the beads and feathers of the dress. No 3 is a light, refreshing summery juice, while No 4 is exotic and warm and (...) is quite different from the rest of the collection
."
"Each 75-ml. eau de parfum is priced at $150 and comes with a tasseled atomizer. In addition to the dress-inspired graphics, the low-profile glass bottles also feature a raised glen plain pattern on two sides."
And right on time for the Holidays, a set of four 25-ml. purse sprays will be available in November 2008, priced at $180.
The Couture scents will launch next week at Saks Fifth Avenue and will stay there for 6 months as exclusives of the department store.