Boudicca Wode: Art Fragrance, Not Just Perfume (2008) {New Fragrance}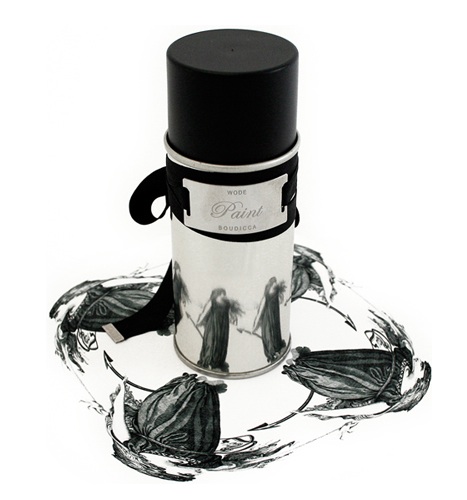 UK Fashion label
Bouddicca
will introduce, not only what could just be a debut fragrance line, but a more revolutionary concept called
Art Fragrance
. This art is expressed through an Eau de Toilette called
Wode
, accompanied by a bottle of Wode scented blue paint with fading properties. "Wode" means "wood" but also "mad" and was used to describe at times the furor of a warrior. The word appears in a pun by Shakespeare in Midsummer Night's Dream: "
And heere am I, and wod within this wood
."
Wode is directly inspired by the legend of the life of Iceni warrior-queen Boudica a.k.a Boadicea (died A.D. 60 or 61), whose name means "victory", known for having led an uprising of East-Anglian tribes against the occupational forces of the Roman empire. Author Cassius Dio described her in this excerpt,
"...a terrible disaster occurred in Britain. Two cities were sacked, eighty thousand of the Romans and of their allies perished, and the island was lost to Rome. Moreover, all this ruin was brought upon the Romans by a woman, a fact which in itself caused them the greatest shame....But the person who was chiefly instrumental in rousing the natives and persuading them to fight the Romans, the person who was thought worthy to be their leader and who directed the conduct of the entire war, was Buduica, a Briton woman of the royal family and possessed of greater intelligence than often belongs to women....In stature she was very tall, in appearance most terrifying, in the glance of her eye most fierce, and her voice was harsh; a great mass of the tawniest hair fell to her hips; around her neck was a large golden necklace; and she wore a tunic of divers colours over which a thick mantle was fastened with a brooch. This was her invariable attire."

She also reportedly went into battle with her daughters in front of her, leading a chariot and shouting words of encouragement...
The bottle of scented blue paint is a reference to the cobalt-blue paint she wore in battle,
"Legend has it she and her tribe wore a cobalt blue war "paint" on their skin that gave them a ferocious and mythical look when advancing into battle. When finally defeated by the Romans, Queen Boadicea killed herself by swallowing hemlock, an extract of which is included in Wode."


Wode was created by perfumer
Geza Schoen
of Escentric Molecules together with fragrance consultant
Susan Aurora Irvine
with raw materials from IFF.
The edt is priced at 95 Euros for 150 ml and the paint at 83 Euros
Wode will be launched in October 2008 at Colette in Paris, Browns and Dover Street Market outlets in London, UK and at Barneys in the US, as well as in the Boudicca boutiques.
It will also be available through the website
boudiccawode.com
Via
Cosmetic News
,
Wikipedia
,
Encyclopedia Romana
, Bouddicawode.com