Paris Hilton Fairy Dust Ad: Pixie Trail {Perfume Images & Adverts}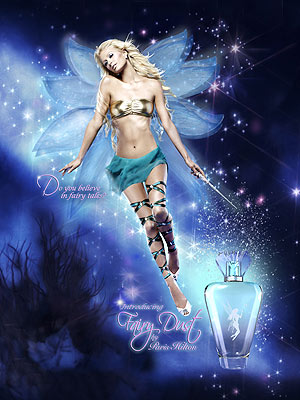 A little dose of fairy-tale does not hurt in times of recession as someone was telling me off the record. Paris Hilton has thus turned into the celebrity version of a sweet Tinker Bell to promote her new fragrance
Fairy Dust
; she seems to have left the branch of the flacon of the latest Van Cleef & Arpels
Féérie
who were also inspired by the magical world of Disney's pixies this fall 2008. Meanwhile Lolita Lempicka is reactivating a scintillating version of the little mermaid franchise with Fleur de Corail...
The tag line for Fairy Dust is: "
Do you believe in fairy tales?
"
Please do not hesitate to dream big,
"Paris Hilton waves her magic wand and enchants young women in every corner of the world with Fairy Dust her magical new fragrance. It invites women of every age to believe that with a sprinkle of Fairy Dust dreams really come true. There's just a hint of magic in this captivating fragrance from Paris Hilton."