1528 Parfums Or Blanc, Or Rose, Or Jaune (2008) {New Fragrances} & Gold-Trend Alert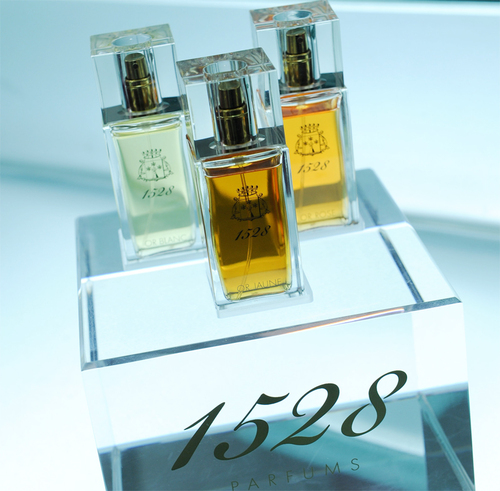 Zero Otto
in collaboration with Italian Gold-leaf conceptual artist
Anna Carla de Leonardis
just launched a new line of perfumes in Rome. The trio of scents is meant to interpret her vision of art and creativity into fragrance. The perfumes are called after three nuances of the precious metal gold: Or Blanc (White Gold), Or Rose (Pink Gold), Or Jaune (Yellow Gold) with the tag line "
From golden pictures to perfumes: art is transformed into its essence
."
The new perfume brand is also inspired by the spirit of the Italian medieval alchemical tradition and by exotic materials brought back by travelers in past centuries...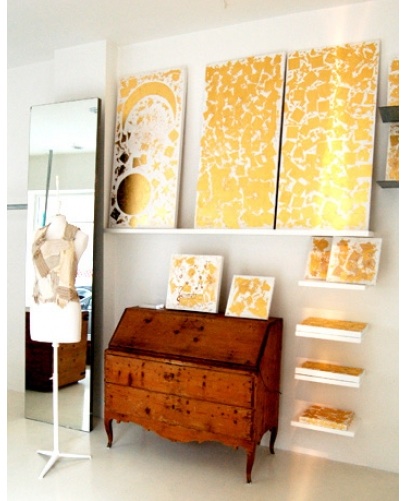 Or Blanc
(Séduisant) is "lively and heady" and has a heart of lavender, lily of the valley and patchouli with a base of oakmoss and sandalwood.
Or Rose
(Aphrodisiaque) which stands somwhere "between instinct and reason" has a heart of geranium, jasmine, iris and violet leaves.
Or Jaune
(Erotique) "conveys power, feeling, passion and courage". It has notes of amber and vanilla.
Although the perfumes are supposed to ooze of the idea and appeal of gold, they seem to be trying to do so metaphorically rather than attempting to capture in scent the particular olfactory inflection of gold, unlike 888. 1 Million by Paco Rabanne was also interested in the metaphor but with nevertheless an accord of copper included.
For other trendy recession-proof takes on gold in perfumery see
8 88 by Comme des Garçons
and
1 Million by Paco Rabanne
.
It makes perfect sense: in the current context, fool's gold is of the essence.
Via
Panorama.it