C-Thru Ruby, Purple Diamond, Blue Opal: Estee Lauder Cos.' New Mass-Market Line {New Perfumes}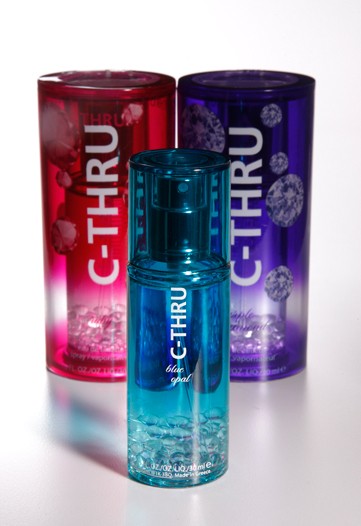 Estee Lauder Cos
.
Aramis and Designer Fragrances
will launch a new line of fragrances for young women from December 2008 titled
C-Thru
. It will be their first venture into the mass-market arena as the perfumes will be distributed through Wal-Mart first then Kohls,Target and other such mass retail outlets from January 2009.
The collection debuts with three fragrances named after gems,
Ruby, Purple Diamond, Blue Opal
and are priced to appeal to the budgets of budding consumers. They will be available in two sizes, 1-oz. and 2.5-oz. eau de toilette sprays, priced at $17 and $25...
About the spirit of C-Thru,
"The C-Thru collection is about empowerment," says Robin Mason, vice president of Global Marketing. "Our goal with this brand is to present young, fashion conscious women with a different way to express themselves. It's not about telling them where to fit in or conforming to a celebrity ideal" Mason adds, "but inviting them to discover more about who they are with our unique fragrances."

As is often the case, the idea of an initial trio of scents is justified here by the wish to touch a number of different types of women.
According to WWD,
"
Ruby
, concocted in partnership with International Flavors & Fragrances, is "for someone who's very passionate, confident and strong," she said. Its top notes are of melon, peach and bergamot; the heart is of rose, freesia and raspberry, and its drydown includes sandalwood.
Purple Diamond
, a spicy oriental developed with Givaudan, is meant to represent "mysterious intrigue." It has top notes of plum and black currant, a heart of Indian night-blooming jasmine and a drydown of vanilla.
Blue Opal
, concocted with Firmenich, "expresses spirituality and balance," and has top notes of watermelon and red berries, a heart of lilac and rose petal and a drydown of wet skin accord."
"Like
Lauder's Mustang men's fragrance
-- which launched in July 2007 in midtier department stores and later rolled out to mass retailers -- C-Thru is being produced in partnership with the Sarantis Group, which is based in Greece and is said to be one of the leading producers of mass market cosmetics and household products in that market. Aramis and Designer Fragrances is responsible for distributing and marketing the brand in North America, while Sarantis is producing the scents."
A dedicated website, cthrufragrances.com, will debut on Dec 1 2008.
Via
Fashion United
,
Women's Wear Daily