Korloff Kn° I, II, & III (2008) {New Fragrances}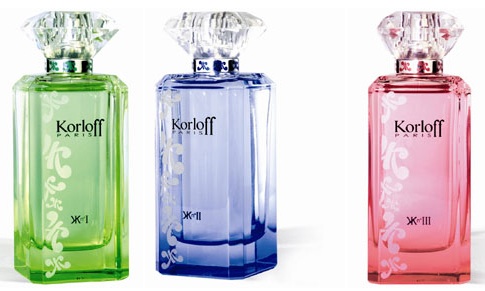 Korloff Paris
will launch a trio of perfumes to pay homage to the 88 ct black diamond called the Korloff Noir said to be the largest black cut diamond in the world. Each perfume is numbered rather than named and meant to represent a different woman, a traditional idea also emphasized by the different colorings:
Kn° I, Kn° II, Kn° III
.
Juding from the ad copy, the portraits of these women sound particularly stereotypical; let us hope the juices are more lively...

According to the
Moodie Report
,
"Kn°I: Green Korloff Diamond is said to resemble a "flower of the Andes", this fragrance was created for the sensual, mysterious contemporary woman who has a strong sense of freedom. The heady green juice combines notes of fresh rose, lily of the valley and white cedar nuances.

Kn°II: Blue Korloff Diamond Designed to evoke a night in Ceylon, this scent is coloured a dark, velvety blue to resemble the enveloping night. The juice features notes of peach, Tonka bean and iris. It targets the woman who is determined to follow her dreams to the end, according to the company.

Kn°III: Red Korloff Diamond is said to be the fragrant embodiment of a journey to Siam, this fragrance is coloured red to symbolise burning passion and is aimed at sensual, passionate and seductive women. The juice contains ylang ylang, freesia and musk."