Philosophy The Haunted House (2008): Halloween Bath Indulgences {New Fragrances} {Shopping Ideas}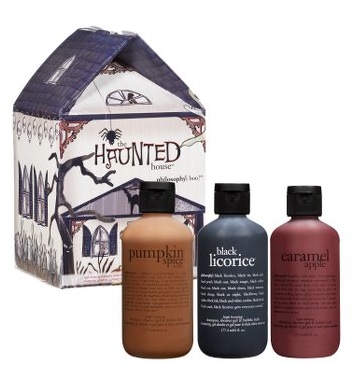 Time to get scary in the bath! Philosophy has launched a set of 3 gourmand scents for the bath & body aficionados and tricksters. If right now you are not satisfied with your Dial or Ivory soaps and want to feel the spirit of the season, here is Haunted House which comprises
Pumpkin Spice Muffin, Black Licorice and Apple Caramel
. All three are three-in-one products and triple as shampoo, shower gel and bubble bath...
They are described as "high-foaming". They look like the kids might love them.
Personally the only problem I have with using this type of fun, sweet-treats for the bath for the children is that although they smell age-appropriate at first, they usually reveal a standard musky dry-down that feels culturally a bit our of place diffusing from the heads of young children, to my nose. Yep, I insist on them smelling innocent. But I am aware it is just a cultural bias.
The set of 3 X 6 oz bottles retails for $30. At
Sephora
it is temporarily out of stock there online but still available at
Philosophy
.