Avon Bond Girl 007 (2008) {Perfume Review} {New Fragrance} {Celebrity Fragrance}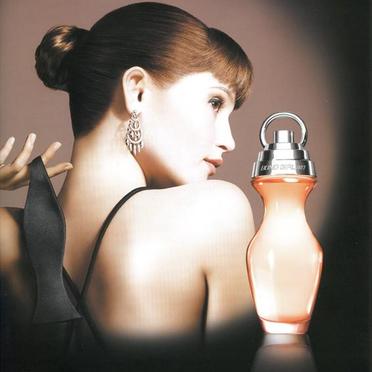 Bond Girl 007
is the latest feminine celebrity fragrance by Avon. Fronted by British actress
Gemma Aterton
, it was released at the same time that the new James Bond movie Quantum of Solace debuted, a film in which she plays the role of agent Strawberry Fields.
The scent was created by a team of three perfumers:
Olivier Cresp
(see
interview
),
Frank Volkl
and
Harry Fremont
. While the fragrance is advertised as being a woody-floral-musk, the perfume could be seen rather as a sort of hybrid, chypre-cum-oriental composition. Fragrance families can be played with and often are as it is even considered a safe way to play to try to please the most potential customers possible with the same perfume by mixing typical attributes. In this case however, there was a creative anthropomorphizing idea behind this insistence on duality.
Re-watching the interview with Olivier Cresp one realizes that he mentions that there is an attraction-and-danger duality to the composition which corresponds to the personality of Strawberry Fields, but this comes across empirically, and even if you did not know that, as a tension between a luminous chypré effect and a more opaque and vaporous oriental vanillic sensation. The technical
tour de force
of this perfume is that this tension never subsides...
Official notes given are:
Top Notes are White Peach and Orange Blossom; Middle Notes are Jasmine, Exotic Calypso Orchid and Freesia. Base notes are Amber, Cashmere Wood, Patchouli and Musks.

Most often one pays only fleeting attention to the very top notes of a perfume, those ones that are conventionally citrusy and the most volatile, simply because they do not often call attention to themselves, serving rather as a springboard for the main development of the perfume. Indeed most often citrus notes seem just to say hello and good-bye at the same time. But in the case of Bond Girl 007, the head notes are very appealing and force your attention. The freshness here has presence and feels multi-layered.
From the bottle, the impression of the scent appears familiar and after some thinking (Narciso Rodriguez for Her, Lovely, mmm?) and letting go of thinking (not quite, not quite), it strikes me a few hours later as a cross between the rose, patchouli and orange blossom of
Gucci by Gucci
and the peach of Burberry London (by Michel Almairac). Still later, I remember that
YSL Elle
, also created by Olivier Cresp, presents affinities with Gucci by Gucci.
For the perfumers who were submitted the "brief", i.e., the story that needs to be translated into wearable fragrance, and as Olivier Cresp explained himself, this sparkling aspect represents the attractive part of the Bond Girl 007 persona (versus her "very dangerous" part). The bright citrusy and fruity opening which seems to be a medley of lemon, orange, mandarin and which includes orange blossom and white peach is exceptionally well-crafted; it also seems to prolong itself further into a chypré impression.
The perfume then fades into its other facet, the oriental one, a rather heavy pastry vanilla accord at first with nuances of beaten egg-whites, reminding me irresistibly of the recent vanilla segue in Tendre Jasmin by Yves Rocher done by Cresp's close colleague and
compadre
Jacques Cavallier. But in this case the heaviness of the white creamy vanilla is not just regressive; the more sophisticated and lighter chypré accents manage to float above the more gourmand accord.
It may appear at this point that perfumer Olivier Cresp wanted to get the best of both worlds: the elegance of a chypre and the coziness of a sweet oriental (the sense of danger is not really apparent to my nose).The perfume industry in general is very keen on seeking, not only inspiration from food tastes but also often more literally, on mimicking them in fragrance compositions. Cresp is also well-known for inserting a signature lucky gourmand accord in his fragrances. It served him well in some of his other perfumes like Angel, Light Blue and Nina which were all outstanding commercial successes.
In the final analysis, one can only admire the technical maestria with which the composition never lets go of this fundamental duality, the chypre-oriental tension. If seduction is about ambiguity and elusiveness, Bond Girl 007 proves adept at the game.
As the perfume dries down, it takes on a very seductive powdery scent. It is a powdery sensation that is a bit spicy and precious. After thinking about this impression for a little while, first thinking about opoponax, I realized it is reminiscent of Cashmere Mist by Donna Karan and further back in this lineage, of Chanel Bois des Iles. It is not a conspicuous sensation, rather a subtle signature which characterizes the feminine work on woods in Bond Girl 007.
Info via
Clove Two