Fashion Exhibition on the Second Empire, 1852-1870: Sous L'Empire des Crinolines {Scented Paths & Fragrant Addresses}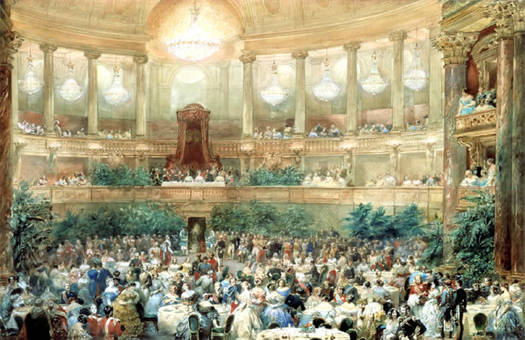 The
Musée Galliera
in Paris is organizing a fashion exhibition devoted to sartorial tastes during the French second empire (1852-1870) and to its central indulgence, for women, the crinoline. The exhibit is titled
Sous l'Empire des Crinolines
(Under the Influence of Crinolines) and will run
from November 29, 2008 to April 26, 2009
.
One reason why it might be interesting for perfume aficionados to visit this exhibition is of course because the era is a period of expansion for the perfume house of Guerlain, which then managed to secure the patronage of the empress Eugénie thanks to its Eau de Cologne Impériale whose therapeutic virtues were said to alleviate her migraines. It is still available today...
If fashion and perfumery have been dancing hand in hand so to speak, it is fascinating to be able to catch a glimpse of the outfits, accessories, jewelry and the culture more generally that accompanied the development of perfumery at that time.
Worth would establish his house during that time too, an era in which one witnesses the ascension of haute couture, with Paris as its capital. The exhibit opens on a ball scene.
From the Mairie de Paris website:
"Sous l'Empire des crinolines présente la mode du Second Empire. Robes, coiffures, bijoux, accessoires accompagnés de peintures, d'estampes et de photographies... plus de 300 pièces projettent le visiteur au temps où la silhouette féminine est toute en courbes, à l'image des modèles de Ingres. Les robes à crinoline symbolisent l'époque : corsage ajusté sur des épaules rondes, taille étranglée sous une volumineuse jupe faite de mètres et de mètres de moire, taffetas, dentelle, mousseline, tulle...
La mode balance entre un style raffiné et un style tapageur aux couleurs criardes, nouvellement apparues dans le textile. Imprimées ou rayées, ces robes voyantes sont parées d'une accumulation d'ornements : volants, franges, guirlandes de fleurs, ruchés de dentelles et de rubans. Les femmes du monde - tout comme les cocottes - changent de toilette jusqu'à cinq fois par jour pour suivre le rythme effréné de la vie sociale : dîners, concerts, spectacles, réceptions... Les bals sont à la mode et les plus courus donnés à la cour de Napoléon III.
L'exposition s'ouvre sur une Scène de bal. Mantelets et robes à crinoline sont accompagnés de carnets de bal, d'éventails, de porte-bouquets, de parures de tête... Quelques pièces ayant appartenu à l'impératrice Eugénie et à la princesse Mathilde sont présentées.
Le parcours se poursuit avec la Vie moderne qui présente les vêtements de ville comme de villégiature : capes, robes retroussées, boléros, petits costumes (ancêtres du tailleur) ainsi que leurs indispensables accessoires : châles, ombrelles, chapeaux, bottines... La bonne société suit l'air du temps qui est à la modernisation - urbanisme, industrie, chemins de fer... - et part en voyage d'agrément à la montagne, dans les stations balnéaires ou les villes d'eau. Puis sont évoquées la production et la commercialisation des articles de mode. Le Second Empire voit les prémices de la Haute Couture - Charles Frederick Worth crée sa maison de couture en 1857 à Paris - tandis que les Grands magasins sont en plein essor : Au Louvre, Au Bon Marché, Au Printemps... Quant aux Expositions universelles de 1855 et 1867, elles reflètent un Paris vitrine internationale de l'excellence.
Le final, avec la présentation de la Joaillerie - Mellerio dits Meller, Morel, Cartier, Boucheron -, consacre brillamment Paris dans son rôle de capitale de l'élégance et du luxe.
Qu'est-ce que la crinoline ?
À l'origine un jupon d'étoffe raidie de crin, la crinoline devient en 1859 une cage armaturée de cerceaux métalliques dont le diamètre peut atteindre 180 cm. Sa forme évolue de ronde à projetée (volume vers l'arrière) pour se transformer en tournure ou en pouf (coussin sur les reins) à partir de 1867.
Musée Galliera
10, avenue Pierre 1er de Serbie - 75116 Paris
tél.: 01 56 52 86 00 / fax : 01 47 23 38 37
métro : Iéna ou Alma Marceau
station vélib : Alma Marceau

Prix d'entrée :
plein tarif : 7€ / tarif réduit : 5,50€
tarif jeune (14-26 ans) : 3,50€
gratuit : moins de 14 ans
Tous les jours sauf le lundi
(de 14h à 18h les jours fériés)"