Fragonard Caresse (1929/2008) {Perfume Review}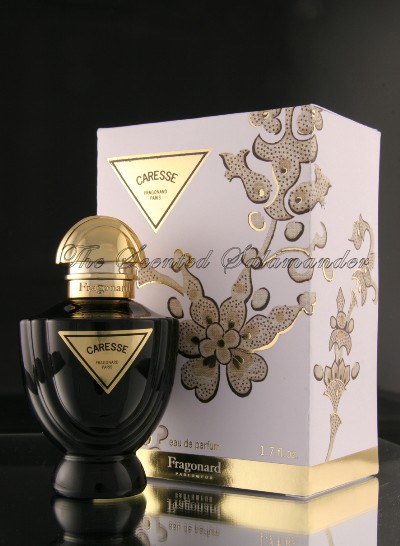 Caresse
, the latest creation by
Fragonard
, is a recreation of a 1929 Fragonard fragrance, a project conducted under the artistic direction of
Agnès Costa
of the house of Fragonard. It follows the re-edition of another perfume from the vault,
Billet Doux
. This half-curator's, half-creator's work was entrusted to renowned perfumer
Jean Guichard
, the author of Lou Lou by Cacharel, Obsession by Calvin Klein, Deci Delà by Nina Ricci, Fifi by Fifi Chachnil and many more. He is also the director of the Givaudan school of perfumery and earned the first Coty Prize in 2000.
It is of interest to note that Jean Guichard is the father of perfumer Aurélien Guichard who has also lately specialized in adapting classics from the Robert Piguet catalog into modern recreations.
In the past father and son have collaborated on Les Belles series by Nina Ricci and the 2007 L'Air du Temps flanker. To some extent, the father's work on Caresse can be usefully compared to that of the son's on
Visa
, in the way the cured-fruit accord of Mitsouko by Guerlain has been made to serve as a bridge between the past and the present. Some perfumery accords are no doubt transmitted from father to son as I am tempted also to relate Aurélien Guichard's work on another modern adaptation,
Baghari
, to the vanilla and aldehydic treatment of the father for Lou Lou...
The Debutante by Alexander Oscar Levy from Michael A. Latragna Fine Paintings

Official notes are: rose, jasmine, orange blossom, mandarin, peach and apricot
Caresse is a fruity aldehydic floral-oriental, somewhat connected for the last three terms to Lou Lou, a landmark perfume of the 20th century. As Michael Edwards explains in
Perfume Legends
, a vanilla note was purposefully used then to recreate the sensation of skin and that of a young woman's skin at that. For a fragrance named Caresse, suggesting a tactile skin impression, it appears that the vanilla here was seemingly used to convey a similar effect. It is evident that particular attention was devoted to making the perfume's texture feel as soft as the brush of an angel's wing on one's arm, if at all possible, creating a white creamy sueded effect or alternatively, the sensation that the discreetly amber-y stewed fruits are drowned in white milky vanilla rather than the reverse, that is a vanilla note unobtrusively embedded in a fruity accord.
If the top notes are not the most striking part - although the scent smells like a very good rose petals and patchouli accord from the bottle - as the scent dries down, more of its lovely personality becomes perceptible. This is what counts, we are reminded in a moment of absolute passing truth, and what the genius of classical perfumery is all about when it does not attempt to mimic architecture, then a pyramid (
Jicky
), now spirals (
Insolence
) and stars (
Skarb
), but rather more simply and sensually wants to become one with your skin. The fruity initial notes of mandarin, peach, a bit of plum, apricot progressively meld with the vanilla and ambergris begetting a new sensation. The floral heart seems to be freshened and softened further by some ginger. A pleasant sourness is used to counterbalance the inherent sweetness of the composition with a nuance of nail polish betraying the presence of jasminic indoles.
The defining feature of this perfume is a very well-balanced co-mingling of all the elements that in and of themselves are not that unfamiliar but which put harmoniously together create at this point a delectable rather unique salty fruity accord underlined by a hint of softened powder and also suggestive of transparency thanks to a note of olive blossom or osmanthus, offering an understated aqueous facet.
If we had forgotten that a perfume can be as classical as it wishes to be provided it is triumphantly and unambiguously harmonious, we are reminded of this quality right here.
Caresse has the ambition of and succeeds at becoming a second skin, clinging onto the epidermis like one of those invaluably practical and sensual tatto-bandaids that feel like your skin but better-designed.
A whisper of oakmoss and a very subdued woody vintage impression pierce through the slightly floury whipped cream effect of the scent as reminders of a past era, but as if filtered through a sieve of vaporous white mousseline (not as vaporous as in Lou Lou). The aldehydic lift is however spirited enough to prevent the vanilla accord from becoming too foody.
There is a bit of Mitsouko in Caresse but as if made more palely marmorean in color, more lunar like mime faces painted white or peaches made out of white porcelain.
Finally the perfume kept feeling familiar but in an impossible-to-define manner at first, until I remembered that Jean Guichard is the creator of the wonderful fruity-floral perfume Deci-Delà by Nina Ricci. Caresse contains the same fruity accents, the same dose of mischievousness, the lightness of being and the prettiness of Deci-Delà.
I am also reminded of the honeyed nuances fusing with tonka and the pepperiness of freesia in Ozbek by Rifat Ozbek.
Caresse is a lovely, pretty perfume in the best sense of the term. A seemingly perfect fragrance for a
débutante
that at the same time can also be worn by a more mature woman. I was glad I could find the painting by Alexander Oscar Levy called The Debutante to illustrate this felt tension as in it the debutante seems to encompass both inocence and sophistication. Contrary to many pretty fruity-florals of a more banal ilk, it is not shallow, offering a sense of maturity subliminally suggested beyond its
insouciant
, carefree motif by the harmonious fusion of all the different elements in the perfume. Like all good perfumes it incorporates that indefinable yet necessary ingredient, time, not static time as in a frozen cliché of bygone eras but time in evolution, living time.
If good perfume can be the salt of life, time is most certainly the salt of a good perfume.
PS: the art deco bottle shaped like an urn is adorable and makes it a good candidate for a Holiday gift, especially at the guiltless price of 45 €.