Kenzo Partners with Ron Arad & Aurelien Guichard for Tactile Skin Perfume (2008) {New Fragrance}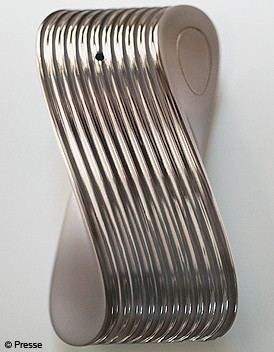 Kenzo
has partnered with British designer
Ron Arad
and French perfumer
Aurélien Guichard
to design a very modern-art fragrance that is more than a perfume, a
perfume-object
and a comprehensive sensory experience.
So much so that it will be showcased as part of an exhibition called
No Discipline
dedicated to Ron Arad's work at
Centre Georges Pompidou, from November 20, 2008 to March 16, 2009
.
Elle
reports about the new scent calling it an "OVNI perfume", that is, slightly weird and unusual. The scent does not seem to condescend to bearing a name.
The bottle designed by Ron Arad is meant to espouse the shape of one's thumb. The perfume itself was created by Aurélien Guichard and is inspired by the smell of the scent of his mother's skin.
One can only admire the way the entire object is made to cohere through the association of tactility with olfaction as you hold the flacon shaped in an ergonomic manner and are invited to smell the scent of skin, which irresistibly calls for a tactile sensation as well.