Ormonde Jayne Zizan (2008) {New Perfume} {Men's Cologne}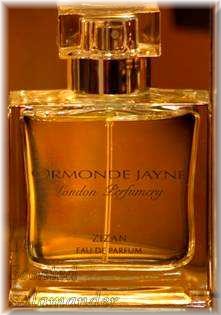 London-based niche perfumery
Ormonde Jayne
has introduced a new men's perfume called
Zizan
. It is the eleventh composition by perfumer and owner
Linda Pilkington
and her third men's cologne after Ormonde Man and Isfarkand.
The new scent rests on a main vetiver and citrus accord and aims to be rich and complex enough to be entirely satisfying on its own - no suggestion of layering here as you can see, and in fact, quite the reverse,
"Zizan, a perfume like no other because it has everything a man could possibly want in a single spectacular scent. This is a powerhouse perfume."...

Linda Pilkington explained that the name of the scent was coined after the Latin name for vetiver:
vetiveria zizanoïde
s.

"Expect a deluge of boisterous Sicilian lime, lemon and bergamot but to smooth the biting edge, a brilliantly refined concentration of vetiver.

Zizan belongs to the domain of the worldly, highly sophisticated and cultivated. It also belongs to the strategist - the man who knows how to seduce."

The perfume opens on fresh, spicy and aromatic notes of Sicilian lime, lemon, bergamot, clary sage, pink pepper and juniper berry. It develops into a floral heart of violet and jasmine counterbalanced by the masculinity of bay. The warm base unfolds on notes of vetiver, cedar, musk and amber.
A 50 ml spray bottle is priced at £64
Available from Ormonde Jayne Perfumery,
12 The Royal Arcade
London W1S 4SL
and
Ormonde Jayne Perfumery
Boutique 1
Jumeirah Beach
Dubai
or
www.ormondejayne.com