Lalique Museum to Open in 2010 at Wingen-sur-Moder {Fragrance News}

Last Saturday November 8th 2008, a ceremony was held at Wingen-sur-Moder in the Bas-Rhin region of France to set the first stone of the building that is going to become the
Musée Lalique
, a new French state museum, which will house the most important collection of René Lalique's works...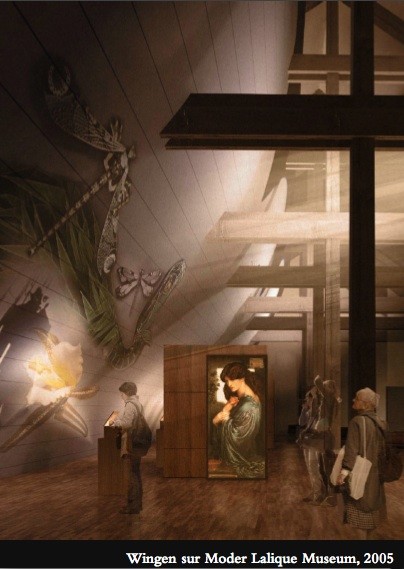 The museum to be is located near the Lalique crystal factory. 200 pieces from the local Lalique fund will see the additions of Art Nouveau jewelry, Art Deco glasswork (including his perfume bottles), about 2000 drawings, all coming from the Lalique company in Paris and the personal collection of its CEO Silvio Denz. A special space will be dedicated to the post-1945 work of René Lalique's son, Marc Lalique (see
Coeur-Joie
).
Lalique has recently been acquired by Swiss group Art et Fragrance and
its artistic director is bottle-designer Thierry de Baschmakoff
.
Organizers of the project hope to attract about 50 000 visitors a year.
"Entrance to the museum is through the natural entrance to the site,a long-forgotten
route that runs the length of the river.The parking area,hidden behind an embank-
ment covered with plants, is invisible. Having parked, and approaching the site on
foot,the visitor suddenly comes upon the museum raised up on the hill.It cannot be
seen on arrival at the site,and its appearance among the trees comes with the shock
of surprise.
A new building unifies the ensemble of buildings that can be seen today.Long and
narrow,it is inserted like a long blade between the pre-existing units.Giant metal let-
ters in a style associated with the founder of the Lalique works, René Lalique, are
arranged along the façade to make up the word Lalique.The gable looks like glass,
and, approaching the building, the complexity of the materials used is revealed:
employing large blocks of glass and sandstone from the Vosges, the building looks
either transparent or opaque depending on the angle from which it is viewed.This
system of alternating transparency and opacity, silicates with glass, is a large-scale
metaphor for the work of the glassmaker."

For more details about the architectural project, please go to
Studio Milou Architecture
Via
AFP