Roja Dove Partners with World Duty Free: Discover Your Perfume {Scented Paths & Fragrant Addresses}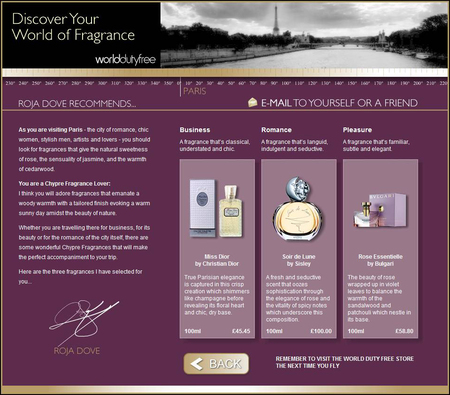 Fragrance specialist
Roja Dove
has established a partnership with
World Duty Free
, a chain of airport duty-free perfumeries, to help you select the right perfume for yourself whenever traveling abroad. Be it on your way to Rome or Cape Town or Tokyo (10 destinations are listed) and according to your fundamental taste plus the occasion of the moment (business, romance or pleasure), you can check Roja Dove's recommendations on this fragrance wizard...
It will be particularly helpful to people who do not have time to ponder the question although they still want to find a suitable perfume quickly.
The main concept, from what I can see, is that different cultures have different olfactory inclinations. And so, when you are in Rome, do as the Romans do.
Clicking through the selection reveals that when flying to New York City, it might be best for you to scent yourself with perfumes corresponding to American taste. Thus if you are a chypre lover, you are invited to wear CK One, Narciso Rodriguez for Her and Lovely while if going to Paris, Miss Dior, Soir de Lune and Rose Essentielle would be more appropriate.
There is perhaps also this idea that a perfume goes with a certain city in a more aesthetic sense, rather than in a cultural sense: for example that wearing Soir de Lune matches the Parisian city landscape somehow. But this more impressionistic take I think is left up to you.
In-store staff will be ready to operate in the beginning of 2009 after having been trained by Roja Dove and will be able to assist you further.
From the press release,
"
A unique and exclusive new website which promises to find the perfect fragrance for you wherever you are going in the world will be launched on Thursday 6 November 2008. www.discoverfragrance.co.uk is brought to you by perfume guru, Roja Dove and leading travel retailer, World Duty Free, and will ensure that you always arrive at your destination, looking and smelling the part.


Just as your travel wardrobe should differ for a business trip to New York as it would for a romantic break in Paris, your fragrance choice can differ too - and according to Roja this is where most of us miss a trick. Just as you wouldn't pack a little black dress for board room meetings in New York or a business suit for a beach break in Sydney, Roja advises you to apply the same thinking to your fragrance to help you effortlessly blend in."