Could My Favorite Cologne Have Been Tweaked? {Ask Marie-Helene}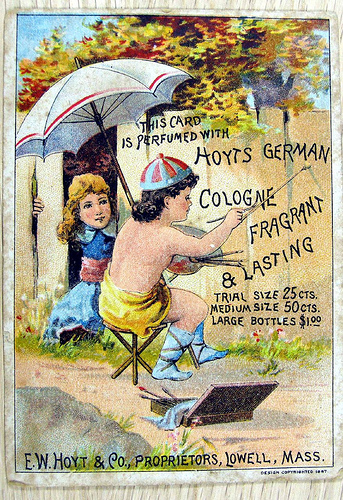 Hoyts German Cologne postcard from
Hannibal1107
. The word "lasting" takes on a new meaning today.
I received a message that I thought would be of general interest to readers, so here it is.
Don't hesitate to chime in!

"I've found myself in one of those situations people infrequently find themselves in when the ordinary and routine so often taken for granted turns in to some Hitchcockian head-scratcher.

I purchased D&G The One at the Duty-Free in London Gatwick November last, a newly-released fragrance I was happy to try since Light Blue had been so compatible with my desire for understatement with scents.


Anyway, when I ran out, I replaced it at Dillards in Barton Creek Mall in Austin. It had only just arrived and my brother and I each bought a bottle.


I ran out again a couple of days ago, and that's where the story begins...

I stopped into a fragrance shop while in San Marcos at a well-known outlet mall. I purchased The One and opened it after arriving at home and sprayed a little on. Guess what? It was a different cologne, strong and imposing, way too sweet for my preferences. It was like a Versace Blue Jeans or an old Dior thing.


Any accounting for such a sharp departure from the original? Could the original have been mispackaged or the ones purchased a year later at an outlet mall have undergone revisions?
I'm out 70 bucks because I will never use this stuff. What could have happened?


Any suggestions, ideas, advice?


Thanks,
CR"
Dear CR,
There is always the theoretical possibility that your perception was different rather than the cologne, but the sense of smell is very subtle at the same time and can register infinitesimal differences. In your case, it sounds like the discrepancy was rather glaring.
From my empirical experience, I can only say that yes, formulations do get revised over time although in the course of a year is less common, but you were a great consumer of that cologne so you were able to notice the difference over a shorter period of time than most.
What remains as a fact is that it is part of a perfumer's job to maintain the stability of the formulation of a fragrance, after it has been created, and keep it identical as much as possible. So it is indeed an ongoing technical and practical challenge for fragrance developers. For example, in order not to rely too heavily on the typical olfactory attributes of one raw material sourced from one geographic location or harvest year, where natural ingredients are concerned (modern perfumery is based on a mix of natural and synthetic ingredients), perfumers mix it with ingredients sourced from elsewhere creating an average olfactory mean impression that contributes to the stability of the formulation. These blends are called a "
communelle
" in French, which means that a number of ingredients are purposefully pooled together to lower the threshold of dependence from natural and less than ideally reliable sources.
What I have noticed also in the past is that perfume formulations can get tweaked over the holiday season, especially if the perfume is part of a gift coffret. If this takes place, the tweaking is usually quite discreet but it is enough for me to think that some industrialists are trying to cut corners to justify the lower price of a coffret. In a case like that, it creates the impression of a less rich concentration, not that of a greater one as in your case with
The One
.
Also what happens is that there exists varying formulations according to markets, read cultures. It is much more confusing when the same perfume is marketed on the surface as being identical but in fact its jus inside has been modified to suit the tastes of a particular market. On the other hand, we all know that specific colognes and perfumes are created for the Japanese market, for example, and they all should be lighter.
So, I would say that yes, it is possible your perfume had to be revised for technical reasons. I don't know whether California is considered different from the arc running from London to Texas, but usually UK tastes are considered similar to US tastes.
As for advice on finding your favorite version, which might be from an older batch, I would say to explore further with your nose and when you find the kind you like to stock up. I'd perhaps try online discounters who rely more on older stocks. If you have kept the packaging for the older bottles, you can try matching the lot codes on the packaging too (bottom of the box).
Also, if you bought your cologne in a chain store, try returning it!
Hope this helps clarify things,
Marie-Helene