Chanel Paris-Moscou Silent Movie by Karl Lagerfeld: Flawed Coco - A Look at the Pre-Fall 2009 Collection {Cultural Notes} {Scented Images}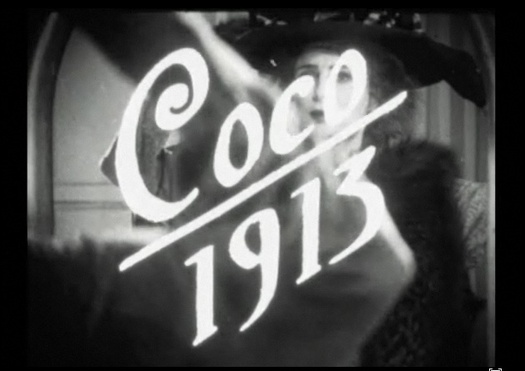 A kind reader sent us a link to the short movie by Karl Lagerfeld entitled
Chanel Paris-Moscou
depicting Coco before Chanel in 10 mn. I
wrote an earlier post
about it on our sister blog Beauty & The Salamander and Octavian Coifan from 1000 Fragrances also posted his thoughts
here
.
The movie is both fun and funny. Lagerfeld showcases Gabrielle Chanel's indomitable self-confidence, her mastery of the art of the
mauvaise foi
, her expert delivery of
vacheries
, her militating bitchiness (she disses Paul Poiret, her rival)...
Cossack-uniform inspiration for a Chanel dress that is both sober and opulent. It strikes me as being perhaps the most Chanel outfit in spirit of the collection without being slavish and a mere copy of the previous glories of the house, with that same potential for turning into a classic, pared-down look that is essentially timeless.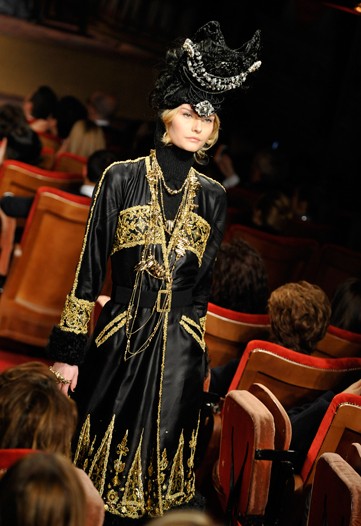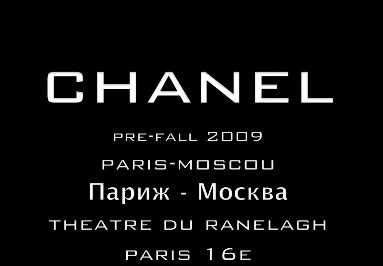 The short also stresses her hard-nosed business sense and her reliance on the men in her life as well as her, shall we call it, "mixing genius", which might be more of a commentary on Lagerfeld's own creative process. "
Je vais mélanger tout ça
" she says when talking about Russian constructivism, Russian folklore, French cubism, the opulence of the court in tsarist Russia to Grand Duke Dimitri, portrayed as a dim wit with little more education than Chanel (in fact less), but without her genius.
The written "dialogues" are pretty hilarious. It is lighthearted and epigrammic. No hint of the tragedies that befell Coco during her lifetime as for example Boy Capel's death since it does not fit the format and the purpose of the film.
The movie is about a flawed and talented Chanel, in a nutshell.
Model Edita Vilkeviciute was obviously picked in great part for her left profile!
The short ushers in the Paris-Moscou collection of 2008-2009.
You can watch the full
Chanel Paris-Moscou, a movie by Karl Lagerfeld
Here is also a glimpse of the
Paris-Moscou Pre-Fall 2009 Collection
,