Top 10 Most Iconic Fragrances of All Time according to UK survey & Top 3 Bestsellers in France {Fragrance News}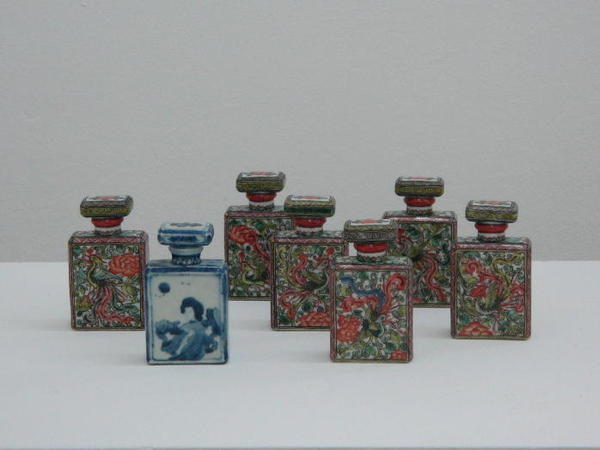 Chanel No. 5, New China Series, 2007 by Chinese artist Ma Jun
-- The Chanel No. 5 bottle is so iconic it appears still recognizable in the glazed Chinese ceramic medium.
(A bottle of No. 5 is said to be sold every 55 seconds around the globe.)
According to a survey conducted by the Superdrug store chain in Great Britain, the top cult fragrance of all time is considered to be
Chanel No. 5
- the oldest composition also in this survey - based on perceptions of the women respondents in the UK who were polled in November 2008. The survey included 2000 participants. The next two are
CK One
(2) and
Eternity
(3), both by
Calvin Klein
.
Next, we have Coco by Chanel (4), then Dior Poison (5), Ghost by Ghost (6) a very popular scent in the UK which is less often mentioned in the US and France...
Cacharel Anais Anais (7), Lacoste Pink (8) currently Superdrug's bestseller, Yves Saint Laurent Opium (9), Beckham Intimately Her (10).
It looks like you do not need to have been on the market for a long time to be considered iconic. Beckham Intimately Her was launched in 2006.
Matthew Twigg, Superdrug fine fragrance buyer declared: "
All the perfumes in the top 10 have adorned dressing tables across the country and will remain staple scents for years to come
."
In France, Chanel No. 5 was the best-selling perfume in 2007 followed by J'Adore by Dior and Angel by Thierry Mugler, both which do not appear in the Superdrug 10-most-Iconic-perfumes-of-all-time list but would probably appear in a similar survey, were it conducted in France.
Via Vogue.fr, Superdrug