Rochas Eau Sensuelle (2009): Jean-Michel Duriez Gets Inspiration From Eau de Rochas {New Perfume}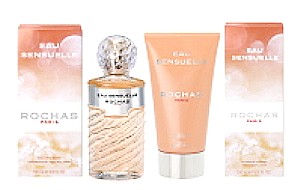 To inaugurate his new role as the in-house perfumer for
Rochas
, perfumer
Jean-Michel Duriez
decided to tackle the classic eau fraîche created in 1970 by perfumer Nicolas Mamounas,
Eau de Rochas
, a limpid-smelling, distinctive composition. Flankers of Eau de Rochas have appeared over the years but this time, its 2009 incarnation appears to play on main textures other than watery and crystalline.
The new creation, reportedly freely inspired by its forerunner, is called
Eau Sensuelle
(Sensual Water) and will be released on April 1, 2009 in France...
Eau Sensuelle while being housed in the same bottle as Eau de Rochas offers a sultrier and more exotic twist, with fruity accords featuring notes of blood orange, bergamot, mango and hints of dried fruits in the base. Other notes include pink pepper, Indian jasmine Sambac, orris, and white musk.
It is an Eau de toilette and is priced 40 euros for 50 ml, 62 euros for 100 ml; a 150 ml body lotion is priced at 26 Euros.
Duriez was appointed perfumer at Rochas in the fall of 2008
. He continues to officiate as the nose for Patou. Both brands are owned by Procter & Gamble.
Via
CTendance