Axe Dark Temptation (2008): Mmmm, Do You See What I See? {New Perfume}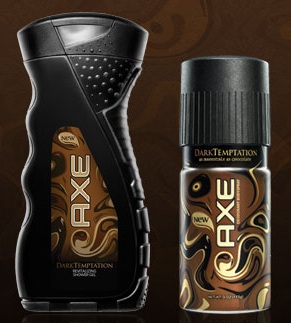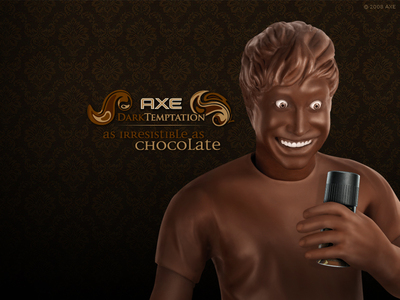 This must be our first entry of an
Axe
fragrance in the new-perfumes category although we have covered them before as part of
the teenage-scents body-spray phenomenon
and due to
their creative ads
(and also meant to review a couple of those).
This time Axe is taking a slightly different route to seduce men into wearing a fragrance that will be a chick-magnet, and interestingly for this type of very conservative, boyish scents, it is taking the path of the gourmand fragrance, and a
muy caliente
one at that. Called
Dark Temptation
the new scent is advertised with the tag line ".
..as irresistible as chocolate
."
"AXE Dark Temptation is the new fragrance by AXE inspired by what women love most...chocolate.
"AXE Dark Temptation combines the subtle aroma of chocolate with fresh gourmet scents, including hot chocolate amber and red peppercorn, to bring modern sophistication to this distinctive fragrance.

So go ahead, try New AXE Dark Temptation and become as irresistible as chocolate!"...
The TV commercial supporting the launch of the fragrance is called Axe Chocolate Man,
"We still feel your performance deserves a statue," the company said, "one that's a bit sweeter."
Well, if you smell a trail of chocolate-scented men on the street, you will know it is not necessarily coming from wind blowing back from the Hershey's factory.
Blame it on my pop-culture mind but I can't help but see a confluence of symbols with the election of Obama, his sexed up image in the media, and the black-and-white relationship in American culture, especially since in the ad only Caucasian girls are running after Chocolate Man.