Christina Aguilera Perfume Sold Out In Less Than A Week Thanks To Coat Hangers {Perfume Images & Ads}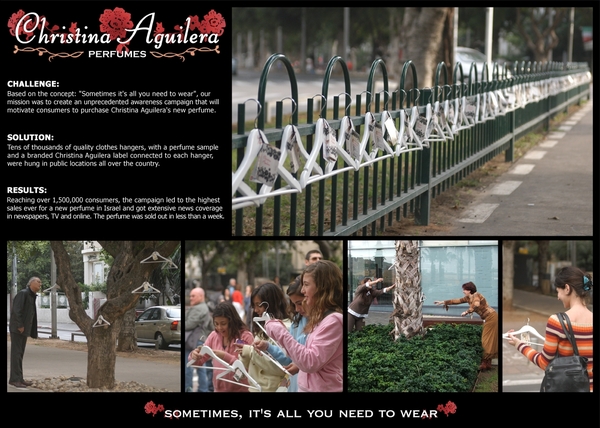 A genius ambient marketing campaign organized on the guerilla mode by
Mizbala Advertising Agency
in
Israel
allowed
Christina Aguilera perfume
to sell out in less than a week at the national level. The advertisers using the naughty-sounding tag line
"Sometimes it's all you need to wear"
of the
original commercial
subverted it by using sedate coat hangers instead with a sample of the perfume attached to those to entice passers-by. The coat hangers became like an obsessive refrain seen everywhere and that was then repercuted in the media...
I guess it was their way of turning a minus into a plus as apparently a more modest campaign was needed to air in Israel. In the original ad, Christina Aguilera is in a négligé and bares her back on which a tattoo grows.
You can watch the video of the campaign here,
Via
Adrants