Mandy Aftel Living Perfume Exhibition April 18 - May 11, 2009 + New Perfume Lumiere (2009) {Scented Paths & Fragrant Addresses} {New Fragrance}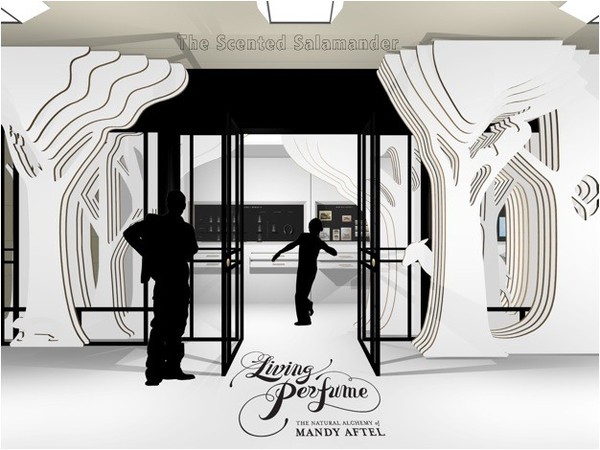 Mandy Aftel
, the best, most active proselyte of natural perfumery, renowned as the purist, modern American pioneer of an ancient and rediscovered craft will have an exhibition at Bendel's in New York City devoted to her body of work entitled
Living Perfume: The Natural Alchemy of Mandy Aftel April 18 - May 11, 2009
. It will also showcase artifacts from her collection of rare books and prints and feature her activities as a perfumer, author and teacher.
"This interactive and historic exhibit will showcase the extraordinary materials that bring to life the art and science of natural perfume. It will be created and installed using the responsible design principles of sustainable materials and eco-friendly sourcing, and draw its inspiration from the natural world where natural fragrance originates."...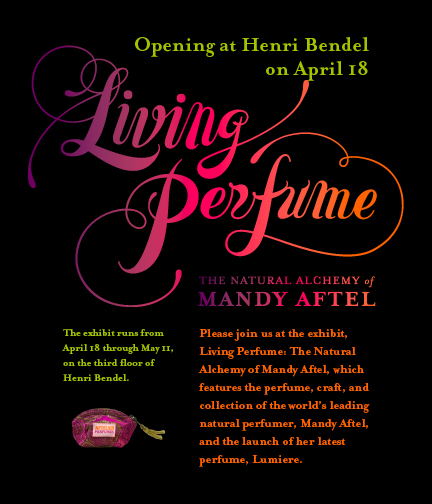 The exhibit will allow visitors to learn interactively about the sense of smell and the art of aromatics.
Also in the news is a new creation by Mandy Aftel called
Lumière
(Light) which will be launched at the event,
"Lumiere is a sheer elegant floral composed of the precious essences of boronia, blue lotus and sacred frankincense. Mandy has created a sophisticated floral that is restrained but sensual. The base chord is built upon notes of fine green tea absolute and the rarest of Frankincense -- boswellia sacra from Oman -- with it's ethereal and mysterious resinous woody notes. Lumiere's exquisite heart features Tasmanian boronia with its aroma of freesias and raspberries, and the transparent watery floral note of blue lotus.

Lumiere is available in one quarter ounce ($195) and 2.2ml mini size ($60). Our one quarter ounce perfume comes with a complimentary mini kit. Contact info@aftelier.com"


(Via press release)