Thymes Naia (2009) {New Fragrance}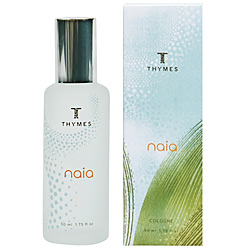 Thymes
has launched a new fragrance called
Naia
, apparently offering an aromatherapeutic effect.
The copy is involuntarily amusing because it seems to suggest that prior to any experience of other Thymes perfumes, say, one would need to spray on some Naia to become more receptive to those scents...



"The invigorating scent of Naia Cologne activates your senses, allowing you to experience more, and let distractions fade."
The perfume features notes of water lily, cyclamen, citrus and lychee.
Again from the copy,

Ranked higher than any previous Thymes fragrance by our consumer fragrance panel, Naia is sure to become a Thymes classic.

A 50 ml bottle retails for $34.