Michael Kors Very Hollywood Michael Kors (2009): Escape the Depre...Recession in Tinseltown
Designer
Michael Kors
is thinking that when hard times hit, we don't need less glamor, we need more of it, but with a little "stimulus package" handy. After his Michael and Island franchises, Kors is launching a new concept and a new perfume called
Very Hollywood
Michael Kors
to debut in September 2009. The designer reflected that while Michael was like a little black dress (see also
Guerlain La Petite Robe Noire
) and the Island scents were like crisp white shirts, Very Hollywood is like a gold lamé dress meant to conquer the red carpet (see also
Badgley and Mischka Couture
) and the spotlight,
"Hollywood glamour is the ultimate escape," [...] "I want women to have that boudoir moment," he said. "The texture of the packaging, the bottle -- they're all very opulent and glam, with an architectural edge."...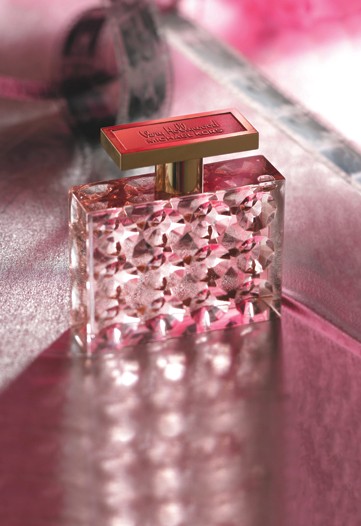 "Very Hollywood, concocted by Kors and the Estée Lauder Cos. Inc.'s Evelyn Lauder and Trudi Loren in cooperation with International Flavors & Fragrances, is a sophisticated floral. Top notes are of mandarin and iced bergamot; the heart is of wet jasmine, ylang-ylang, raspberry and gardenia, and the drydown is of Italian orris, creamy amber, soft white moss and vetiver.



"This is the most glamorous, indulgent scent we've ever done," said Kors, adding that he thinks the sunny Southern California landscape adds optimism to the mix.



The bottle is glass molded to suggest the flashbulbs of Fifties and Sixties photography. Outer packaging is a rich coral with a shagreen texture and a gold border; the Very Hollywood moniker (in a font inspired by the Beverly Hills Hotel) is also in gold."


In a throwback to the spirit of the Depression era, Michael Kors has come up with a line of ancillaries that are innovative and wallet-friendly including a
ball-point pen with Very Hollywood scented ink
($25), an
oversized cocktail ring
with a solid of the scent ($40), and a
5 oz. Fabulotion
($45). Just like when people were encouraged to go to the movies during the Depression by GWPs, receiving glass wares for example, Kors will be concentrating on
GWPs (gift-with-purchases)
to add value to his offerings and make people want to actually buy perfume.