More Kate Moss Celebrity Fragrance News: The Next YSL Perfume {Fragrance News}
As reported about last March 23
, Kate Moss was sighted on a photo shoot in Paris identified as one for Yves Saint Laurent. The buzz started on the internet (blogs) and was confirmed 6 days later by Women's Wear Daily (non-open source) with the following statement,
"Kate Moss, who was in Paris during fashion week, stayed on for a modeling assignment. Early last week, the supermodel did a shoot in Place de la Concorde for a future women's fragrance for Yves Saint Laurent, wearing looks from Stefano Pilati's pre-fall collection for YSL."...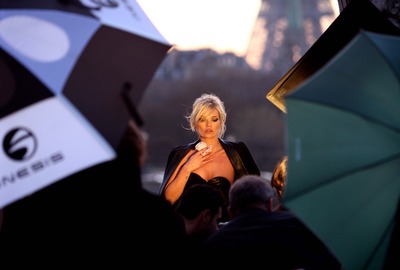 Now a reader tipped us that the upcoming Yves Saint Laurent fragrance for which Kate Moss was shooting might be one called "
Le Parisien
" as he was told by a YSL sales assistant that this was the name of the upcoming YSL perfume to be launched this fall. The only problem I have with this name is the fact that it is in the masculine as Moss is supposed to be a spokesperson for a feminine perfume which would then bear the name in the feminine of
La Parisienne
(I am venturing the guess that the SA mispronounced?). The photos from the shoot do show frames incorporating well-recognizable, iconic symbols of Paris such as the Eiffel Tower. It looks indeed like that name fits the imagery at hand.
Yves Saint Laurent Parfums moreover has a long love story with the city of Paris as revealed by the onomastics of its perfume names and its advertising images. There was Rive Gauche in 1971, then YSL Paris in 1983 followed by its yearly flankers inspired by the geographic mythology of Paris.
La Parisienne would fit in well within that universe with the added bonus of tapping into yet another myth. This is publicity you just can't buy and the PR has been done for centuries before.
Thanks to Taz for the tip!