Paris Hilton Holding Her FiFi Award & Siren {Perfume Images} {Celebrity Fragrance}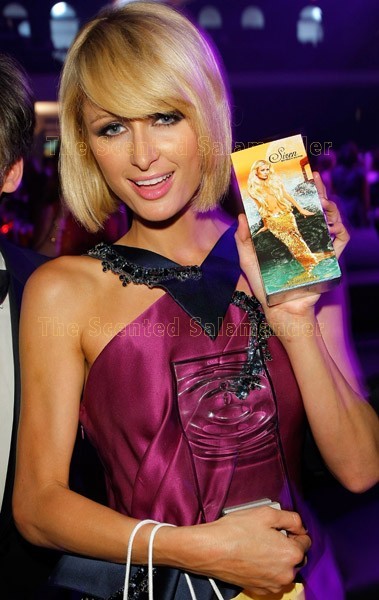 As announced previously
, Paris Hilton was the recipient of the FiFi award for Celebrity Perfume of the Year. She entirely deserves this award and absolutely not for the contents of the bottles she sells of course but because of the imagery she sells. She exemplifies what a glamorous-cum-trashy attitude can bring to the image of the fragrance business. In her hands is a message of attractive easiness...
I personally love to see how far she will go into kitsch territory and each time I am not disappointed.
Apparently her perfumes sell like hot cakes and she is making people happier, both the people who buy it and the people who sell it. I mean, happiness is the end result everybody is aiming for, right? Precisely, Paris Hilton is showing her next perfume Siren which she started pitching at the FiFis in which she is continuing to play out the migraine-free Disney theme by interpreting this time the little mermaid character rather than Tinkerbell. Who could ask for anything more?