Perfumer Christophe Laudamiel to give Conference in Boston on May 11, 2009 {Scented Paths & Fragrant Addresses}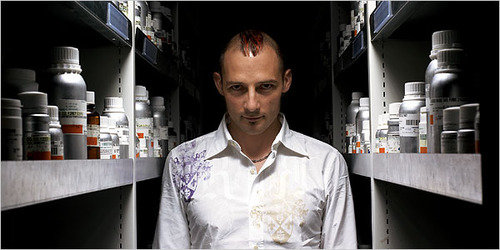 Christophe Laudamiel
is expected in Boston, MA on Monday May 11, 2009 to give a talk entitled
Perfuming at the dawn of the 21st Century
on the pervasiveness of scent technologies in our lives, our biological olfactory makeup and on how to have a better grasp of those issues....

"The world renowned French perfume creator will invite us to travel to the heart of our senses, to biological levels within the universe of emotions awakened by smells. He will show us how olfactory senses are a powerful means of communicating and educating, in the business world, as well as in our personal lives. Laudamiel will talk about the use of technologies associated with the spread of a scent in order to create a specifically intended ambiance or concept."


The event will take place at the
French Library
at the Alliance Française from 6:30 pm to 8:30 pm. Members' fees, $10, non-members, $15.
If you are interested in learning more about the perfumer, you can do a keyword search either through Google or Lijit in our search box in the upper right corner.
Laudamiel is among other things the co-author of the coffret of perfumes inspired by the novel and film, Perfume.
Via
Boston.com