Narciso Rodriguez Essence (2009): Dual White-Black Musk {Perfume Review} {New Perfume}
Perfumer
:
Alberto Morillas
of
Firmenich
Perfume Notes
: powdery musk, iris powder, rose petals, modern musks, benzoin balm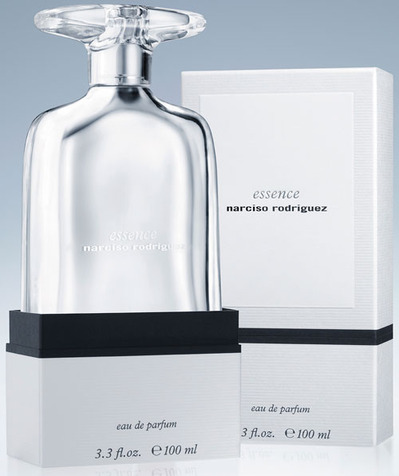 Essence is the latest perfume by designer Narciso Rodriguez who worked with perfumer Alberto Morillas to perfect the idea of a variation on musk. The couturier has, as it turns out, such an instinctual love for and affinity with musk that he has de facto exclusively dedicated his collection of signature fragrances to this raw material.
The bestseller and masterpiece to emulate in his library so far is his debut scent, Narciso Rodriguez for Her in Eau deToilette version which as time passes by confirms its enduring qualities more and more. Morillas said himself that he loves Narciso Rodriguez for Her, composed by Christine Nagel and Francis Kurkdjian, and that it had not been easy for him to follow up on their creation. In fact the process for Essence was both so tortuous and simple that after a year of tests and deliberations, both Alberto Morillas and Narciso Rodriguez who acted as a full-fledged artistic director, went back to the initial idea for the scent: to make a fresh, crisp and pure musk perfume. But the interesting thing is that Essence goes beyond that point as I was able to find out thanks in part to happenstance. Going back over some of the explanations given by Rodriguez, I note the term "dual" which he applies to the packaging,


"It's an idea that started with For Her. I loved the idea of duality, that you have to get close to someone to know what they are on the inside. The packaging for For Her was that: there was this very mysterious black bottle encased in another classic bottle. Now that idea has been reinvented for Essence and made very modern and very sensuous by this futuristic but very accessible and very tactile bottle....


What is clear to me after having observed the development of Essence by Narciso Rodriguez and its sillage is how dual the perfume is in its construction.
There is a diurnal part, the fresh powder of white musk, and there is a nocturnal part, the benzoin. I almost did not recognize the nocturnal part when it wafted back towards me thinking that it was in fact a woman next to me who was wearing an alluring, mysterious concoction and would-I-dare-ask-her-what-she-was-wearing? The next succession of actions prevented me from being rude and after all departed I suddenly had to realize - wonderful moment of discovery as the scales fell from my eyes - that the scent was emanating from myself, so it must be Essence. In that particular phase, the perfume was all deep and oriental, still with a stripped-down quality, but with a marked all-resinous character that one could notice from the beginning but was not as characteristic in the early stages.

If the perfume may tease you into thinking that it is a cool, clean and pastel musk at first, it shocks you better later on into thinking that such an ambiguous perfume which is able to morph into its contrary is a must-have. I am reminded of Edmond Roudnitska's dictum saying that the shock that a perfume can provoke in you is a telltale sign of its achievement. I always understood it to mean an immediate shock or in the beginning. Now I understand that the shock can happen in a significantly delayed fashion, a few hours later in this case. Going further I do not even foreclose the possibility that this shock could happen a few years later.

I initially wanted to entitle this article Gray and Pink Musk to insist on the shades of floral musks that play out from the beginning in Essence. It is more relevant for me to think henceforth of a white and "black" musk contained in the same bottle. The blackness comes from the amber then the benzoin that completely transform the atmosphere of the scent from cool and fresh to the well-guarded harem secret of the sultana of Brunei. In that last incarnation, it is even closer than what I initially thought to Musc Nomade by Annick Goutal. They do not smell the same but they shares affinities.


How Does It Smell Like?


Essence sparkles initially with citrus, a classic opening, before fading into a powdery gray and rosy musk (iris and rose in fact) with a harder graphite undertone that feels a bit more common to my nose (the "modern musks" perhaps) and a hint of old-fashioned face powder or talcum powder as worn by ladies in the hot tropical clime of the Philippines in my memories. The tropical association is reinforced by a subtle nuance of refreshing, classic Eau de Cologne that remains throughout the development of the scent like a crystalline skeleton. Morillas stressed that he thought he had been picked by Narciso Rodriguez because of his creation Mugler Eau de Cologne for which the designer has a a special appreciation. This is interesting in the context of knowing that perfumer Alberto Morillas has also composed fragrances such as Armani White Emporio for Her (2001) considered to be landmark white musk scent or the very snowy-white powdery floral Kenzo Flower, which would appear to be of more direct imports in this pure-musk project. And probably that they are, but they were not immediately mentioned by the perfumer. Narciso Rodriguez being such a musk fiend is presented therefore as having an even deeper appreciation of the clean musk accord in Mugler Eau de Cologne, if we are to take this conversational hint as fully meaningful. At any rate, Essence resembles most to my nose a non-Morillas fragrance, Musc Nomade by Isabelle Doyen for Annick Goutal and then second, a Morillas perfume, Moschino by Moschino.

The initial light, slightly airy sensation is soon followed by a more intense, resinous depth with a sharp floral accent found at the edge of the scent of some opulent flowers. This effect evokes the subdued intensity of a perfume abstractly mimicking the acridity of sweat elegantly covered up by scented powder, an effect that continues to make me think of Philippino ladies remaining cool in the heat of the day although the original inspiration is from Cuba. Perfumer Alberto Morillas explained that "He [Rodriguez] sent me a small vial containing a perfume secret gift from a woman he has known during his childhood in Cuba ... I was simply asked to transcribe!" (full interview here)

The musk accord is warm and clean at the same time evocative of a richly-scented soap for a moment.

White petals little by little reveal their half-drawn lines emerging timidly from a creamy white pool of musk as close to suggesting the emptiness of space as it can be as so few or even complete figurative elements make it into the scent.

I note that this is a very stripped-down musk, stripped down to its bare essentials. It creates the illusion that if you entered a clean clinical-looking laboratory and picked a bottle simply marked MUSK, that this would be the scent possibly housed in it. This is an illusion because Essence is actually more complex and composed of floral and amber-y notes although it is also very economical in its design. There are no extra notes or a wealth of details. But the idea of a minimalist musk making room for depth and intensity at the same time is proposed.

The initial stages of the phase of the drydown are very delicate evoking flowers more with this time an aqueous nuance and freshly-mown hay or maybe even papyrus note mingling with the harder graphite or pencil-lead one which makes it lean in the direction of a unisex, just like the bottle invites you to think so. There is also a little hint of burnt rubber.

To me Essence evokes Musc Nomade by Annick Goutal minus the more marked Orientalist typification and the more prominent rose in the first one. If there is a cultural typification with Essence, to me it evokes the Philippines just like Moschino by Moschino does which I realized afterwards was also created by perfumer Alberto Morillas. There might be some Hispanic cultural preferences expressed in these perfumes. Certainly we are invited to think that there is a little bit of Cuba in Essence. There is also a creamy, almost milky pure musky quality that is akin to the one I experienced in La Pureté by Zadig et Voltaire but less literally lactic in Essence.

The two strongest olfactory memories I retain from this perfume are the pleasantly insistent floral pungency underneath the musk - it allows the perfume to grow on you like an insistent popular tune, the perfume version of an earworm - and then, this unexpected starry-night black Moorish musk drowned in balmy, resinous amber and benzoin, with just the tiniest puff of incense, that is so appealing especially as you least expected to find it in this beautiful modernist mirror bottle signed by Ross Lovegrove.

More quotes and info here