Obama Perfume Watch {Perfume Images & Adverts}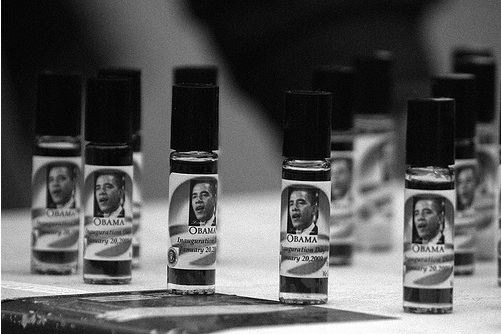 Well, I think Chanel need to put Obama on the No.5 to double their sales. He has obviously become
the other perfume icon
. I am starting an Obama perfume watch here as the trend appears to be prolific.
Have you noticed all the Obama perfumes, air fresheners and what not cropping up lately? After an early trend-setting
Potus 1600
(well, it's really Obama who was the trend-setting agent), it's become a wave. For example, check above some roll-ons of the scent called Obama issued for Inauguration Day. Below, grab some Obama air fresheners.Next, watch after the jump the packaging for Change EDP with the whole Obama family pictured, then a spoof commercial using a bottle of Bond No9 Little Italy, it seems, to turn it into Eau de Obama. There is also a cologne called Yes We Can by Parfums Deray. And it's just a short selection.
Charisma just seems to scream for perfume or is it starting to look like a regular personality cult phenomenon? But why perfume?....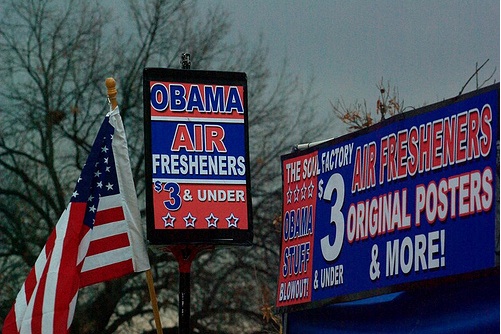 "For Inauguration week, a bunch of merchants set up a large Barack Bazaar outside the DC Armory and RFK Stadium." by
Philliefan99
Say it with perfume: Change Eau de Parfum, by
Catleygo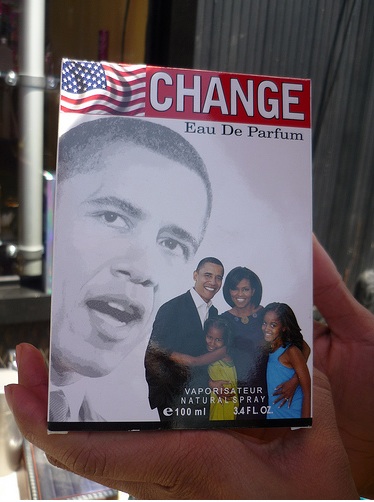 "OIl of Obama, have you ever dreamed of the smell of hope?..."

Yes We Can for Men

1st photo by Philliefan99