Prescriptives Calyx Sheer Exhilaration (2009) {New Fragrance - New Flanker}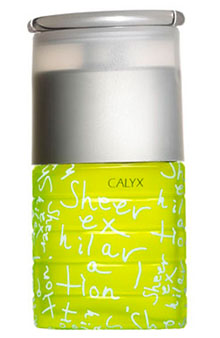 Calyx
by
Prescriptives
which was originally introduced in 1986 has a new limited-edition companion scent this summer named
Calyx Sheer Exhilaration
. The launch is part of a makeup color collection itself directly inspired by the perfume,
"Exhilarating, a vibrant new summer color collection of saturated shades that were inspired by the intoxicating ingredients of Calyx: tropical fruit, cool citrus, and playful florals."...

Top notes: grapefruit, mandarin, mango, passion fruit and guava. Middle notes: A blend of freesia, muguet, neroli, rose, lily, jasmine and marigold. Base notes: a luscious weaving of oak moss, sandalwood and vetiver.
Calyx Sheer Exhilaration is meant to be used as an "all-over fragrance" and promises instant sensations of freshness and coolness. It keeps an olfactory linkage to Calyx while being lighter and more citrusy.
The 1.7 fl. oz. spray bottle which reprises the original bottle with added happy, playful graffitis on it is priced at $38.