Jacques Fath Irissime (2009): From Iris Gris to Irissime: A Contemporary Version of Iris Gris {New Perfume} - Q & A with Fabrice Biré of Panouge around the Launch of Irissime {Perfume Q & A}
Last year a rumor started circulating on the Internet that a classic perfume by couturier
Jacques Fath
, the mythical
Iris Gris
(Gray Iris), was going to be resurrected. It is nearly impossible to find it nowadays, although it surfaces on very rare occasions; a set of Jacques Fath fragrances including the very elusive Iris Gris just recently sold on eBay (picture below).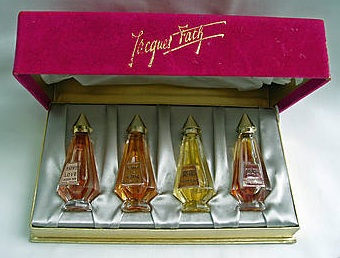 The perfume has not been lost to historic amnesia however thanks in part to perfumer
Guy Robert
who in the now out-of-print book
Les Sens du Parfum
counts it as one of the masterpieces of perfumery, one which was composed by nose
Vincent Roubert
. Guy Robert is quick to add though that his list is not exhaustive and presents a few of the best creations of a few of the best creators in perfumery. Vincent Roubert is thus included as the author of both Iris Gris and L'Aimant by Coty, the latter a much more readily available scent nowadays. L'Aimant was a spin-off version on Chanel No.5.
For those interested in just smelling and not owning necessarily a perfume, a historically reconstituted version of iris Gris can be smelt at L'Osmothèque today thanks to the efforts of perfumer-curators. Needless to say it is now considered a museum piece. The sheer fact that the fragrance is nearly extinct in its original state has of course not lessened the levels of admiration for it but rather increased them. As it has become by historical accident even more exclusive and rare, we get the last ingredient needed for a perfume to become the stuff of legend: extreme exclusivity. Sometimes you have to wonder about that ultimate psychological element when perfectly wonderful fragrances can be had at drugstore prices and are not for that reason put on a pedestal, like L'Aimant for instance, the other masterpiece listed by Guy Robert.
An original bottle of Iris Gris

I first learned about the project thanks to a reader who was wondering if I had heard about it and if one could give any credence to the rumor. After inquiring further and getting some helpful advice from Haarman & Reimer as well as Symrise later on, the company Panouge confirmed to me last summer that they were working on a reconstitution of the celebrated iris perfume which first appeared in 1946...
Panouge is a company that already holds the license to the historic label Isabey and they have re-issued the beautiful Gardenia from its portfolio. When I contacted them last summer they were at the stage where they were considering to resurrect Iris Gris, they told me, "very seriously", and were trying to get as many olfactory feedbacks from different samples of the original perfume. They were still in the research stage and it sounded like a fascinating enterprise knowing the context. When I then communicated with perfume expert Roja Dove, he sounded himself very excited using once more the word "masterpiece".
You can expect to see the modern incarnation of Iris Gris at his perfumery. In fact, being the perfume collector that he is, he might even have the privilege of offering an even more original and exclusive version of Iris Gris in the future.
I had the opportunity to talk with Fabrice Biré of Panouge the license owner for Jacques Fath and the company that owns the original formula of Iris Gris. He offered insights into the recent history of the newly launched
Jacques Fath Irissime
, the successor to Iris Gris. The first question one might ask is why did they change the name? The answer is further down below.
The perfume has been out of the chain of production for just two weeks so this is the dawn of a new adventure for the fragrance brand and Panouge wish to remain open-minded about the venture. Irissime is in fact seen as a platform for reawakening more largely the name of Jacques Fath in the world of fragrances.
More so, understandably, than Jacques Fath Homme, which was introduced just last year. Women's fragrances have an edge when it comes to the all-important glamor factor generally speaking and Irissime comes with its own very special aura, if you know its ancestor. So, again, why not tap into the mythical aura of Iris Gris by using the same name?
One of the first questions I had for
Fabrice Biré
was, why is the new perfume not called Iris Gris and what is signalled with the name "Irissime"? Is it a continuity or a departure from the old perfume? The answer might surprise you, as it did me, because it involves the name of the house of Hermès.
As it turns out, there is a trademark issue. Hermès bought the rights to the name "Iris Gris" not long ago, Biré said, three to four years ago and they discovered this fact only six months ago making it out of the question for them to re-use the original name. As Biré stressed with an earnest tone of voice and repeatedly so, they were "bitterly disappointed" by the news at the time - one can still feel the lingering pain in his voice when he reminisces about the event - but there was nothing that could be done. Biré expresses the regret that "Iris Gris" might be used by Hermès in the future divorced from the name "Jacques Fath". He said that it feels to him like someone purchasing and deciding to use the trademarked name "Eau Sauvage" without that of Dior next to it. Would it be really useful? Wouldn't it feel a bit odd?
Further research shows that Hermès have been interested in the name "Iris Gris" for longer than thought of by Biré as the trademark was purchased by the house as early as in 1963.
When I asked if the company had considered using a more derivative name closer to the original such as for example, "Irys Gris" or "Iris Grisé", the two look-alike names that came to my mind on the spur of the moment, I was told in no uncertain terms that they would not consider it fair play. It is perhaps risky too and certainly complicated.
Panouge is far from feeling negative or combative towards Hermès. Biré professed in all sincerity a "great respect" for the heritage of the house of Hermès, for their work and contribution to the enrichment of the French patrimony -- a notion very dear to the French -- so that would have been out of the question if only out of esteem and deference. Moreover as he stressed, Hermès acquired those rights legally: they are entitled to using the name unimpeded and without creating any potential confusion in the minds of consumers and everyone else involved.
This is of course pure speculation at this point, but one will have gathered that perfume aficionados might start contemplating the possibility that an Iris Gris by Hermès created by Jean-Claude Ellena might see the light of day in the future. Biré pointed out that it would have little to do with the original fragrance though and could only be a new interpretation of an iris perfume. Panouge own the original fomula, let us remember, but more to the point, it has to do with the raw materials. According to Biré, the price of orris concrete makes it "inexploitable" for a modern merchant.
If there is ever going to be an Iris Gris by Hermès, one would be tempted to see it as an addition to the Hermessence Collection if they wanted to propose a luxurious interpretation of it. But Hermès own many other goods as well.
Olivier Monteil
, the Director of PR Relations at Hermès specified as clearly as possible yet in a very diplomatic manner also after I first wrote this article and as I requested further clarification saying that "
The House of Hermès has currently no project for the development of a perfume that would bear the name of Iris Gris
."
According to Fabrice Biré, "Irissime" was finally picked after some brainstorming because Panouge thought that it best emphasized the notions of quality and elegance they wanted to convey. The Italian suffix that has now become globalized connotes the idea of something pushed to perfection, to a superlative degree of quality. It worked for them.
Another question I had was what did they decide to retain from the spirit of the original Iris Gris in the new composition and who was the perfumer?
Irissime was created by
Marie Salamagne
of
Firmenich
. Fabrice Biré views the new perfume as "a homage paid to a mythical perfume", Iris Gris, rather than a faithful historical reconstitution of it. They might consider doing customized versions of the perfume that would be closer to the original formulation but it could only be done in very limited quantities. Maybe something bottled in a limited-edition Baccarat flacon.The problem is, again, the orris concrète which makes up a great part of the formulation and whose skyrocketing prices make it impossible to market Iris Gris on a less than very exclusive commercial scale today. The original formulation contained an inordinate amount of iris concrete, one of the most expensive ingredients of perfumery. Irissime is said to be an iris perfume with a "contemporary" feel. They "have kept the iris note but completely modernized it." The original Iris Gris hardly smells dated even today and is particularly striking in terms of the impression of freshness it still projects, especially coming from both an old-school and vintage perfume, so it will be interesting to see how the contemporary style was grafted upon this original modern style.
The packaging was rethought as well while respecting the taste of couturier Jacques Fath. He loved diamonds so the flacon reflects the faceted aspect of a diamond and carries a "diamond" buckle around the neck. The packaging box is iridescent. They have kept also the original rhombus shape of the perfume labels that you can see in photo no.2 above.
The perfume is going to be distributed first in Europe in France, Germany, Italy in the selective distribution circuit of private perfumeries. They are in talks with Harrods. American perfume lovers can expect to see Irissime appear on the US market in the second semester of 2010. For now it is available at First in Fragrance.
The notes are,
Head: Bergamot, Glycine, Pink Pepper
Heart: Iris, Rose of May, Jasmine
Base: Cedarwood, Musk, Ambergris
Description:
"The top note opens with a lively and transparent touch thanks to the freshness of bergamot, a surprising pink pepper and delightful wisteria. The heart notes shine with a precious floral bouquet, a modern iris, that lies like a transparent veil over the subtle May rose and the lush absolue of jasmine sambac. The mildness and sensuality of musk and ambergris is increased by the intensity of cedar to develop a timeless and refined base note."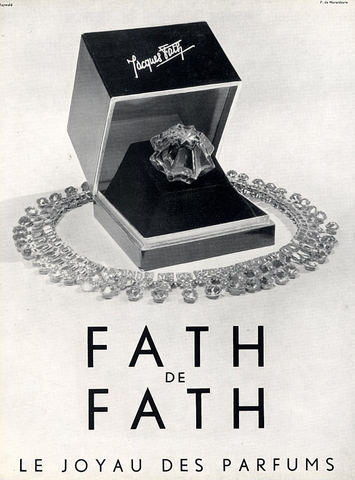 In related news,
Fath de Fath
is also going to be relaunched. This will also be a reformulation. Jacques Fath see this perfume as awaited with a greater level of expectative by the American audience.The bottle will be kept but they have had to work on the color of the juice which will be slightly less orange-y. The reason for this change is because - and here is an interesting combined sartorial and perfumery note - perfumes are tested on white shirts in the US to see if they stain textiles prior to be declared to pass muster. Yes, white collars do not like fragrances that stain. The new Fath perfumes will not necessarily need to smell clean to land in America, but they will need to not dirty clean white shirts.
Please stay tuned for follow-ups.