Juicy Couture Couture Couture (2009): Still More News + the Ad {New Perfume}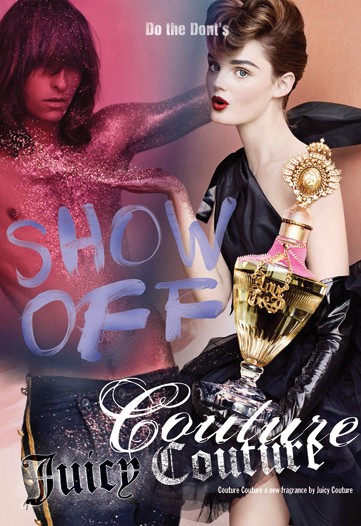 After two posts about the new Couture Couture, here is part 3: The Ad, with some further quotes and details. You were able to get a good look at the bottle
here
which is as always a strong point for the brand and people who appreciate all things girly with a little bit of flamboyance. Co-founder Skaist-Levy explained her position on perfume packaging,
"I always judge a book by its cover with fragrances -- the packaging has to be outstanding."...
The other co-founder Nash-Taylor said about the juice,
"We decided we wanted a decadent sister to our other fragrances, ...We always like clean, fresh scents but wanted to try something a little different with this one."The decadent secret rests apparently with the pink grape accord.
Couture Couture was composed by
Honorine Blanc
of Firmenich who just co-signed a perfume with the same kind of girly vibe with
Scarlett by Cacharel
which is less California and more Paris in principle. The scent has top notes of mandarin, succulent pink grape accord, natural orange flower; heart notes of star jasmine, blushed plum, honeysuckle; base notes of moist amber, creamy sandalwood, vanilla extract.
"The collection comprises eaux de parfum in two sizes, 1.7 oz. for $65 and 3.4 oz. for $85; a 1-oz. parfum, $300; a .25-oz. eau de parfum rollerball, $16; a 1-oz. special edition eau de parfum, $55; a 6.7-oz. body lotion, $45; a 6.7-oz. shower gel, $40; a 3.4-oz. dusting powder, $55; a 6.7-oz. body cream, $55; a 10-oz. sugar scrub, $45; a 6.7-oz. dry oil spray, $45, and an 11-oz. candle in goblet, $350."
Via
WWD